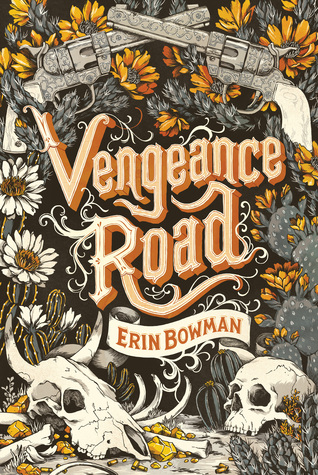 When Kate Thompson's father is killed by the notorious Rose Riders for a mysterious journal that reveals the secret location of a gold mine, the eighteen-year-old disguises herself as a boy and takes to the gritty plains looking for answers and justice. What she finds are devious strangers, dust storms, and a pair of brothers who refuse to quit riding in her shadow. But as Kate gets closer to the secrets about her family, she gets closer to the truth about herself and must decide if there's room for love in a heart so full of hate.

In the spirit of True Grit, the cutthroat days of the Wild West come to life for a new generation.
About the Author
Erin Bowman used to tell stories visually as a web designer. Now a full-time writer, she lives in New Hampshire with her family and when not writing she can often be found hiking, geeking out over good typography, and obsessing over all things Harry Potter. Visit http://www.embowman.com.
Alrighty so first off this one needs some cover love. Cause I'm loving this cover! If you watch my show she was on for her other series and she tells us about the cover of this.
You can catch a taping of that show here
https://youtu.be/1Le4gLPQD28
Ok so this book was really
repetitious and slow. Im not one for slow books, but sometimes it works and sometimes it doesnt. For me this time around it didnt.
That being said this book had a lot of good parts to. So that is why I'm saying give it a try. Although it was repeaty and slow it was also funny and had some great things going for it.
The characters were great, the story ok, and well this scene was awesome. Ive been watching some tv etc. and well this is something everyone needs to learn. Consent is something that everyone in the real world should know. I just watched this video on Facebook it was so funny and sad.
He pauses, lifts his head to look me in the eyes.
"I think we should stop."
"All right."
He sits up slow and watches as I start fastening my shirt.
(ps. I couldn't find this in the book again and I didnt save so I was really happy when I found it on Goodreads)
See the Video here!
So if you love westerns, a hint of romance, humor. and you don't mind a slower read then Give it a Try!
Go Into This One Knowing
Slow, Bit of Romance, Humor
"All opinions are 100% honest and my own."
Disclaimer: Thanks to Goodreads and Amazon for the book cover, about the book, and author information. If you can not see the link above you will need to turn off your spam blocker. Buying via these above links allows my site to get a % of the sale at no cost to you. This money gets used to buy items for giveaways.
https://www.facebook.com/CrossroadReview