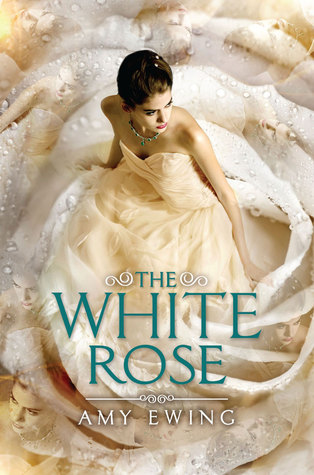 Violet is on the run. After the Duchess of the Lake catches Violet with Ash, the hired companion at the Palace of the Lake, Violet has no choice but to escape the Jewel or face certain death. So along with Ash and her best friend, Raven, Violet runs away from her unbearable life of servitude.
But no one said leaving the Jewel would be easy. As they make their way through the circles of the Lone City, Regimentals track their every move, and the trio barely manages to make it out unscathed and into the safe haven they were promised—a mysterious house in the Farm.
But there's a rebellion brewing, and Violet has found herself in the middle of it. Alongside a new ally, Violet discovers her Auguries are much more powerful than she ever imagined. But is she strong enough to rise up against the Jewel and everything she has ever known?
The White Rose is a raw, captivating sequel to The Jewel that fans won't be able to put down until the final shocking moments.
About the Author
Amy Ewing earned her MFA in Writing for Children at the New School and received her BFA at New York University.
The Jewel
started off as a thesis project and became her debut novel.
The White Rose
is the second book in the trilogy. Amy lives in New York City.
Alluring and gut wrenching, this fast paced, exciting read had me crying for more at the end but completely blindsided all the same. Never would I have seen the ending coming! I highly recommend this book to all and any who love wild adventure, dangerous goings and a twist of romance.
O the White Rose! What to say about this one! After the cliffhanger of book one and the events told via Raven's POV I was just about dead. This one picks up right where book one left off. And wow it was a doozy. I really need book three now and I'm really hoping for another novella. I have to say that Amy Ewing knows how to rip out your heart. The magic in this series comes to the for front of this book which worked out so well. And you get some of the back story of their world which was amazing! I really really want a prequel book to this! This one again deals with issues set for higher teen. It also ends on another great cliffhanger. I can't wait to see where book three takes us.
I didn't realize how much I need this sequel until I started reading it. Some of the questions I had in the first book were answered in this and some of the secrets reveal...wow. There was more character development and back stories revealed. Is that a budding romance I smell? One can only hope! I can only warn you, be prepared to not want to put this book down!
Go Into This One Knowing
Romance, Danger, and Magic!
"All opinions are 100% honest and my own."
Disclaimer: Thanks to Goodreads and Amazon for the book cover, about the book, and author information. If you can not see the link above you will need to turn off your spam blocker. Buying via these above links allows my site to get a % of the sale at no cost to you. This money gets used to buy items for giveaways.