This week on Thursday Threads we have none other than the amazing title Dorothy Must Die by Danielle Paige
Who hasn't want their own pair of Ruby Slippers? Wizard of Oz made me want a pair as a kid (and I still haven't gotten a pair). Dorothy Must Die is one of my favorite books and so I decided to make an inspired outfit on that book.
The dress was obviously based on Dorothy's dress with a pair of white tights instead of white socks. And add a cute headband instead of two little bows. The necklace with a beautiful marble in it would be the magic she has in book. Last, but not least, the ruby shoes. How could you not have those?
"All opinions are 100% honest and my own."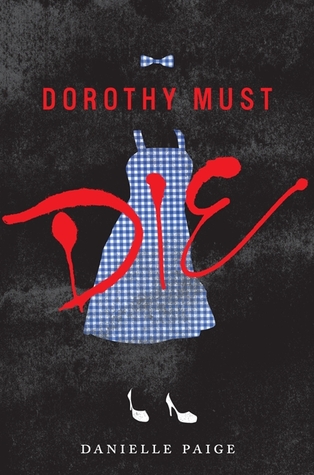 I didn't ask for any of this. I didn't ask to be some kind of hero.
But when your whole life gets swept up by a tornado - taking you with it - you have no choice but to go along, you know?
Sure, I've read the books. I've seen the movies. I know the song about the rainbow and the happy little bluebirds. But I never expected Oz to look like this. To be a place where Good Witches can't be trusted, Wicked Witches may just be the good guys, and winged monkeys can be executed for acts of rebellion. There's still a yellow brick road - but even that's crumbling.
What happened? Dorothy.
They say she found a way to come back to Oz. They say she seized power and the power went to her head. And now no one is safe.
My name is Amy Gumm - and I'm the other girl from Kansas.
I've been recruited by the Revolutionary Order of the Wicked.
I've been trained to fight.
And I have a mission.
About the Author
Danielle Paige is a graduate of Columbia University and the author of
Dorothy Must Die
and its digital prequel novellas,
No Place Like Oz
and
The Witch Must Burn
. Before turning to young adult literature, she worked in the television industry, where she received a Writers Guild of America Award and was nominated for several Daytime Emmys. She currently lives in New York City.
Check out all the past Fashion Ideas here
Disclaimer: Thanks to Goodreads and Amazon for the book cover, about the book, and author information. If you can not see the link above you will need to turn off your spam blocker. Buying via these above links allows my site to get a % of the sale at no cost to you. This money gets used to buy items for giveaways.