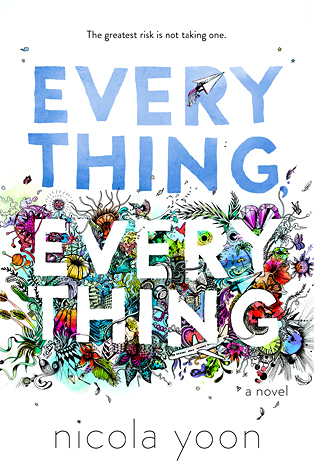 My disease is as rare as it is famous. Basically, I'm allergic to the world. I don't leave my house, have not left my house in seventeen years. The only people I ever see are my mom and my nurse, Carla.
But then one day, a moving truck arrives next door. I look out my window, and I see him. He's tall, lean and wearing all black—black T-shirt, black jeans, black sneakers, and a black knit cap that covers his hair completely. He catches me looking and stares at me. I stare right back. His name is Olly.
Maybe we can't predict the future, but we can predict some things. For example, I am certainly going to fall in love with Olly. It's almost certainly going to be a disaster.
About the Author
Nicola Yoon grew up in Jamaica (the island) and Brooklyn (part of Long Island). She currently resides in Los Angeles, CA with her husband and daughter, both of whom she loves beyond all reason. You can find her at www.NicolaYoon.com and on twitter and tumblr @NicolaYoon
I've always kinda wanted to live in a bubble. I've always secretly wondered, what life would be like if I couldn't go outside. Or leave my house, or even get the mail. Weird, I know, but whateves,it's true. I think we all do from time to time. BUT enter Everything Everything and you actually get a glimpse of that world and it's just so unbelievably heart wrenching. But not it like a way that has you wanting to walk away from the book, but one that has you rooting for the book. You become so protective over it. I loved this book. If you ask me it was perfect--and I just loved the characters and their development throughout the entire story. Perfectly crafted and perfectly loved, this is a must read for me. I would recommend this book to everyone and everything. Pun intended.*winks*
Go Into This One Knowing
Over the moon in love.
"All opinions are 100% honest and my own."
https://www.facebook.com/CrossroadReview