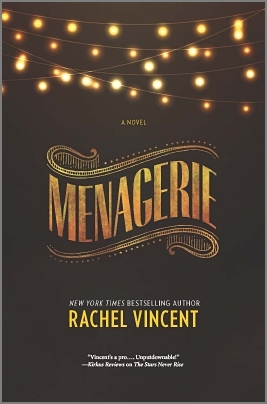 From New York Times bestselling author Rachel Vincent comes a richly imagined, provocative new series set in the dark mythology of the Menagerie…
When Delilah Marlow visits a famous traveling carnival, Metzger's Menagerie, she is an ordinary woman in a not-quite-ordinary world. But under the macabre circus black-top, she discovers a fierce, sharp-clawed creature lurking just beneath her human veneer. Captured and put on exhibition, Delilah in her black swan burlesque costume is stripped of her worldly possessions, including her own name, as she's forced to "perform" in town after town.
But there is breathtaking beauty behind the seamy and grotesque reality of the carnival. Gallagher, her handler, is as kind as he is cryptic and strong. The other "attractions"—mermaids, minotaurs, gryphons and kelpies—are strange, yes, but they share a bond forged by the brutal realities of captivity. And as Delilah struggles for her freedom, and for her fellow menagerie, she'll discover a strength and a purpose she never knew existed.
Renowned author Rachel Vincent weaves an intoxicating blend of carnival magic and startling humanity in this intricately woven and powerful tale.
About the Author
New York Times bestselling author Rachel Vincent loves good chocolate, comfortable jeans, and serial commas. She's older than she looks and younger than she feels, but is convinced that for every day she spends writing, one more day will be added to her lifespan. Now absorbed in the dark, tangled loyalties of her UNBOUND world, as well as the travails of a teenage banshee in her SOUL SCREAMERS world, Rachel can be found online at www.rachelvincent.com or urbanfantasy.blogspot.com.
What an interesting concept!! I have never read a book like this one but it was creepy (awful in some parts) but good. It's fast-paced and will have you hooked from he first page. You feel so bad for Delilah because she has lost all rights a person and has to fight to stay alive. She's resilient and stays that way no matter what happens to her. She fought for what she believed and to help others. The other characters were intriguing and some were just pain terrible. This is one book I'll never forget.
Go Into This One Knowing
violence (graphic), rape (not graphic)
"All opinions are 100% honest and my own."
Disclaimer: Thanks to Goodreads and Amazon for the book cover, about the book, and author information. If you can not see the link above you will need to turn off your spam blocker. Buying via these above links allows my site to get a % of the sale at no cost to you. This money gets used to buy items for giveaways.
https://www.facebook.com/CrossroadReview