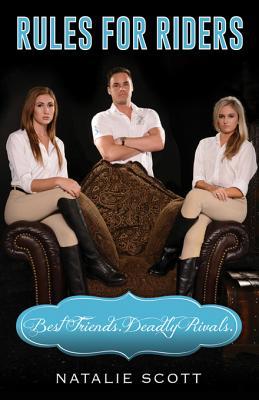 After a near fatal riding accident, Bebe Barkley is banned from riding and sent off to boarding school. Finn Foxley, her roommate and partner in crime, devise a plan to get themselves kicked out of school, in order to return to the world they love.
Once back on the Equestrian circuit, best friends will become deadly rivals! Enter Billy O'Reilly, Bebe's handsome trainer, who will enforce 7 Rules that will turn Bebe's world up upside down forever.
About the Author
Natalie Scott grew up in Melbourne, often referred as the cultural capital of Australia because of its great restaurants, trendy cafes and great shopping! Natalie developed a love of books when her fourth grade teacher read the book Lion, the Witch and the Wardrobe by C.S Lewis.
In high school Natalie devoured the classics, her favorite being Catcher in the Rye by J.D Salinger. At University she studied English Literature and Communications, though she will openly admit to spending a lot of time at the college pub where she liked to make up outrageous stories before traveling extensively through Europe and the United States.
Throughout her travels, she fell in love with sunny California where she attended classes at UCLA Writer's Program. Natalie also attended numerous writers' conferences including Santa Barbara, San Diego State and Grubstreet. She was the recipient of the Outstanding Fiction award given at the Southern California Writers Conference. In her spare time, Scott worked as a spokes model for companies including the AMC Network,, We Entertainment, Hasbro, Adobe and Sony.
The Aussie gal is a foodie who loves Vegemite and currently resides in Scottsdale, Arizona where she enjoys sharing her passion for food, enjoys exploring new restaurants, happy hour, traveling, and a passion for books and fashion.
Scott's debut novel, Rules for Riders, is a fast and furious, coming-of-age story set in the world of equestrian riding.
Check us out on Facebook, Twitter, and Instagram!
I wanted to like this book more than I did. It felt like the book was a bunch of short stories with the same characters and the book really wasn't about riding, it just follows a woman who rides. It moves too fast from one plot to another so you really don't get to enjoy each plot. And the love story between Billy and Bebe was okay.
"All opinions are 100% honest and my own."
Disclaimer: Thanks to Goodreads and Amazon for the book cover, about the book, and author information. If you can not see the link above you will need to turn off your spam blocker. Buying via these above links allows my site to get a % of the sale at no cost to you. This money gets used to buy items for giveaways.
https://www.facebook.com/CrossroadReview