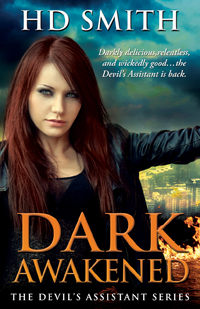 Last spring Claire's seemingly normal—if not totally screwed up—life was tossed on its head. For five years she'd been one of the damned—a human that knows the truth about the otherworldly among us. She'd worked for The Boss—the Demon King himself—as his administrative assistant, handling everything from early retirements, to Maintenance's incessant requests for dental.
No one gets dental.
Then she walked into Purgatory—totally not her fault—went back in time, and awakened powers she never knew existed. Now Claire has a prophecy hanging over her head, a diamond ring hidden in her sock drawer, and the blood of a long dead royal running through her veins.
And it's only going to get worse.
Her vow to live free or die takes a serious hit when she's forced back under The Boss's protection. Of course, there's no protection from fate, or the Bounty Hunter sent to deliver her to Purgatory. And as if being "the girl" in the prophecy wasn't enough, Claire soon discovers there are three other contenders for her role—two of whom want her dead.
Follow more of Claire's adventures in Dark Awakened, the second installment of the Devil's Assistant Series, to find out if she's lucky enough to escape with her life, or if she's just the first notch on the next contender's belt.

About the Author
HD Smith has been writing for over ten years. She is a software developer by day, working for an awesome cruise line in Celebration, FL.
HD grew up in South Carolina, but has called the Sunshine State home since 1997. She has Computer Science degrees from Clemson University (BS) and Florida Institute of Technology (MS). Her other hobbies include painting and screen printing. She enjoys creating t-shirts inspired by the places in her books. For more information, visit HD's website at http://www.hdsmithauthor.com/.
This was a great book!! I was worried about where this series would go after book one but every question I had from the first book was answered and any issues I had were fixed! There are some new character and we get to see old faces. Because if the story line, there is always something going on. There isn't a cliffhanger BUT there will be a book three!! I cannot wait!!
Go Into This One Knowing
paranormal
"All opinions are 100% honest and my own."
a Rafflecopter giveaway
Disclaimer: Thanks to Goodreads and Amazon for the book cover, about the book, and author information. If you can not see the link above you will need to turn off your spam blocker. Buying via these above links allows my site to get a % of the sale at no cost to you. This money gets used to buy items for giveaways.
https://www.facebook.com/CrossroadReview