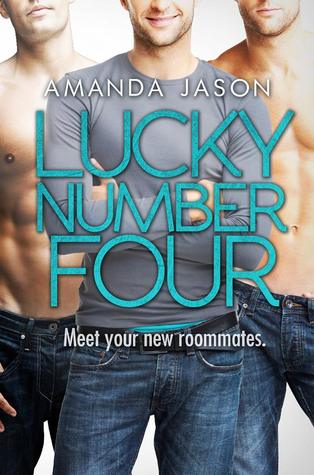 Pandora Ann Phillips' life is just normal-crazy
Her mom's a psychic, her dad's mom is a snob, her mom's parental units are "too down to earth" and her best friends are newlyweds. Okay, so her best friends being newlyweds isn't really abnormal, but living with them in a cramped two-bedroom apartment definitely is. Sex, sex, sex is totally on their minds. Actually it's not only on their minds, but it's on the kitchen table, couch, on top of the washer...well, you get the picture.
Being a celibate (not by choice, mind you) full-time college student, and an almost full-time barista, Pandora can't afford to lose anymore sleep. So, she seeks out a new place to lay her head. Enter three "drool worthy" male models that are looking for a fourth roommate and they want her...and won't take no for an answer.
Hilarity ensues as Pandora's life turns completely upside down, and she begins to wonder if it will ever be the same again!
About the Author
Amanda Jason is the USA Today bestselling author of the romantic comedy, Lucky Number Four. Her real name is Carol Kunz, and she's the C part of the mother and son author duo, C.A. Kunz. The pen name Amanda Jason actually has a special meaning to Carol because it is a tribute to the set of twins she lost many years ago. Carol began her dream of writing when her son, Adam, asked her to write a young adult fantasy novel back in 2011. She couldn't have been happier to embark on this wonderful journey into the literary world with her son because it was #1 on her bucket list.
Carol currently lives in sunny Florida with her hubby and her two four-legged fur babies. She takes comfort in the fact that her amazing daughter and son live close by. When she isn't writing, you can find her walking her yellow Lab or reading a good book. Lucky Number four is the debut novel of Amanda Jason, and it's been a long time coming.
So this one is getting a 2 from me. The reason is that although the writing was really good. This book/story is just a mess that is just to unbelievable. From rich people needing a roommate to very whinny MC. I ended up putting this down about half way through. Although this book is very short it seems way longer.
Go Into This One Knowing
Unbelieveable Story
"All opinions are 100% honest and my own."
a Rafflecopter giveaway
Disclaimer: Thanks to Goodreads and Amazon for the book cover, about the book, and author information. If you can not see the link above you will need to turn off your spam blocker. Buying via these above links allows my site to get a % of the sale at no cost to you. This money gets used to buy items for giveaways.
https://www.facebook.com/CrossroadReview