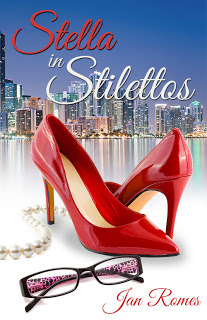 ~ Sometimes you have to break the rules; sometimes you have to break them wearing stilettos ~
Stella Matson has had it with handsome guys who schmooze their way into a woman's heart and walk out the door when they get a better offer. As far as she's concerned, she needs to focus on the one thing that won't leave her teary-eyed on a Friday night - her job with the lingerie company. That plan goes horribly awry when drop-dead gorgeous, Alex Clay, is temporarily assigned to her department. He frustrates and excites her, turns her into a klutz, and she's afraid her heart is in real danger once again.
Alex Clay is restless and trying to find his place in the business world. His boss seems to be grooming him for big things by giving him a taste of everything from the mailroom to the boardroom. When he does a short stint in the advertising department and meets hardheaded but intriguing, Stella Matson, she challenges his convictions and stirs an unwanted desire. He doesn't know whether to kiss her until they're both breathless, or find a new job.
Will Stella and Alex act on the attraction sizzling between them? Or will they extinguish it with doubt, mistrust, and a belief that they shouldn't get involved with someone they work with?
About the Author
Jan Romes grew up in northwest Ohio with eight zany siblings. Married to her high school sweetheart for more years than seems possible, she is also a proud mom, mother-in-law, and grandmother. She likes to read all genres, writes witty contemporary romance, and enjoys growing pumpkins and sunflowers.
Fun, flirty and fast paced, this read will have you swooning over Alex and laughing alongside Stella!
A must read!
Go Into This One Knowing
Romance
"All opinions are 100% honest and my own."
a Rafflecopter giveaway
Disclaimer: Thanks to Goodreads and Amazon for the book cover, about the book, and author information. If you can not see the link above you will need to turn off your spam blocker. Buying via these above links allows my site to get a % of the sale at no cost to you. This money gets used to buy items for giveaways.
https://www.facebook.com/CrossroadReview