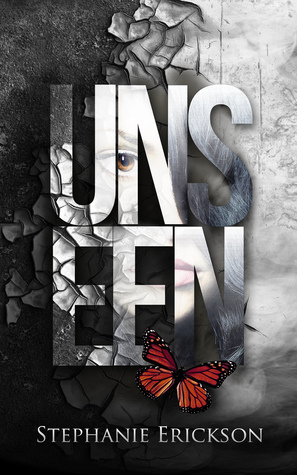 Mackenzie Day constantly struggles to silence the voices in her head. The inner thoughts of those around her intrude upon every aspect of her life, threatening to turn it into chaos.
All her life, she thought she was alone as a mind reader—a freak.
Then a member of a secret organization called The Unseen suddenly introduces himself, and she's immersed in a world she never knew existed. They teach her to hone her skills as a reader, but to what end? Secrets surround her, humming just out of reach, filling her with questions.
Who are they? What do they do with their mind-reading abilities? In the end, just how far will Mackenzie go to be part of The Unseen?
About the Author
Stephanie Erickson has always had a passion for the written word. She pursued her love of literature at Flagler College, in St. Augustine, FL, where she graduated with a BA in English. She has received several honors in her writing career, including recognition in the 72nd Annual Writer's Digest Competition. After graduation, she married and followed her husband in pursuit of his dream. The Cure and The Blackout were written to reignite Stephanie's passion, when she found the time. Now that he is settled in his career, it's her turn to devote more time and energy into writing. Stephanie currently has 3 projects planned for 2015. Her upcoming release is well underway and is slated for a March 2015 publication date. Stephanie, of course, loves to read and write. She also enjoys living on the beach on the Florida's Treasure Coast. Most of all, she and her husband are in love with their baby girl.
I tried to love this one! And to top it off its free on Amazon! So you can totally check it out and let me know if you felt the same way.
Ok so this one has characters in it that act way younger than they are. There is instal-love that just doesnt work. And well an MC that is so passionate about what she wants to do to help others and then gives it all up after she falls for some guy she nearly knows.
Take one from Frozen for that. You can't marry someone you just met. I don't care if it is true love or not. See how well that worked out for Anna!
Go Into This One Knowing
Insta-Love that didnt work and bad characters
"All opinions are 100% honest and my own."
a Rafflecopter giveaway
Disclaimer: Thanks to Goodreads and Amazon for the book cover, about the book, and author information. If you can not see the link above you will need to turn off your spam blocker. Buying via these above links allows my site to get a % of the sale at no cost to you. This money gets used to buy items for giveaways.
https://www.facebook.com/CrossroadReview