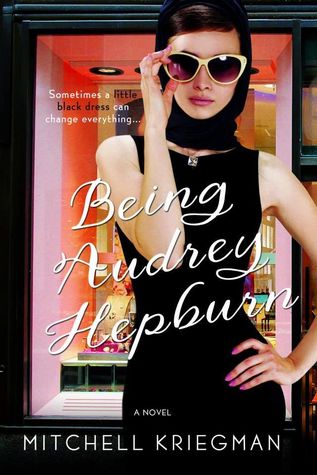 In Being Audrey Hepburn, Clarissa Explains It All-creator, Mitchell Kriegman, tells the story of a 19-year-old girl from Jersey who finds herself thrust into the world of socialites after being seen in Audrey Hepburn's dress from the film Breakfast at Tiffany's.Lisbeth comes from a broken home in the land of tube tops, heavy eyeliner, frosted lip-gloss, juiceheads, hoop earrings and "the shore." She has a circle of friends who have dedicated their teenage lives to relieve the world of all its alcohol one drink at a time.

Obsessed with everything Audrey Hepburn, Lisbeth is transformed when she secretly tries on Audrey's iconic Givenchy. She becomes who she wants to be by pretending to be somebody she's not and living among the young and privileged Manhattan elite. Soon she's faced with choices that she would never imagine making – between who she's become and who she once was.

In the tradition of The Nanny Diaries and The Devil Wears Prada, this is a coming of age story that all begins with that little black dress…
Mitchell Kriegman is the author of Being Audrey Hepburn, and an upcoming novel due out November 2015 called Things I Can't Explain — a modern day sequel to his groundbreaking cult classic 90s Nickelodeon show, Clarissa Explains it All.
Kriegman created and won four Emmy's for his work on other childrens' classics such as Bear in the Big Blue House, Book of Pooh and It's a Big Big World. He was the executive story editor of the original Ren and Stimpy. Rugrats, Doug and Rocko's Modern Life. Besides writing original screenplays for Rogue, Universal, Disney, Columbia Pictures and others, his short stories have been published in The New Yorker, the National Lampoon, Glamour, New York Press and Harper's Bazaar.
Before joining the team of SNL as a filmmaker, performer and writer, Mitchell began his career performing "An Evening of Stories and Tricks You Won't See Anywhere" and other original performance art at the New York Dance Theater Workshop, The Kitchen, Franklin Furnace and more. His video works are part of The Museum of Broadcasting, Whitney Museum, and London Institute among others.
I fell in love with both the title and cover. The first movie I saw with Audrey Hepburn was My Fair Lady and I LOVED it! So I was super excited to get this book. I really enjoyed this book. Lisbeth was awesome. I was so jealous of what she got to do. She gets to live the life I've wanted since I was little. Through the story, she learns about who she is and where she wants to be in life. What a great story.
Go Into This One Knowing
you'll want to watch Audrey Hepburn movies!!
"All opinions are 100% honest and my own."
a Rafflecopter giveaway
Disclaimer: Thanks to Goodreads and Amazon for the book cover, about the book, and author information. If you can not see the link above you will need to turn off your spam blocker. Buying via these above links allows my site to get a % of the sale at no cost to you. This money gets used to buy items for giveaways.
https://www.facebook.com/CrossroadReview