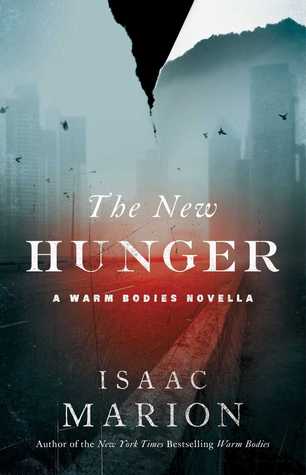 The end of the world didn't happen overnight. After years of war, societal breakdown, freak storms, and rising tides, humanity already hovered near the edge. Then came the most unexpected threat of all: the world's corpses rising up to deliver the final blow.
Born into this bleak and bloody landscape, twelve-year-old Julie struggles to hold on to hope as she and her parents drive across the wastelands of America on a nightmarish road trip in search of a new home.
Hungry, lost, and terrified, sixteen-year-old Nora finds herself her brother's sole guardian after her parents abandon them in the not-quite-empty ruins of Seattle.
And in the darkness of a forest, a dead man opens his eyes. Who is he? What is he? With no clues beyond a red tie and the letter "R," he must unravel the grim mystery of his existence—right after he learns how to think, how to walk, and how to satisfy the monster howling in his belly…
I am so excited to bring you guys a review of the prequel to the wonderful Warm Bodies! But thats not all! The winner of this great giveaway will win not only an ARC of The New Hunger but also a paperback movie tie in edition of Warm Bodies and a slightly used copy dvd of the movie!
Isaac Marion grew up in the mossy depths of the Pacific Northwest, where he worked as a heating installer, a security guard, and a visitation supervisor for foster children before publishing his debut novel in 2010.
Warm Bodies
became a #5 New York Times bestseller and inspired a major Hollywood film adaptation. It has been translated into twenty-five languages worldwide. Isaac lives in Seattle with his cat and a beloved cactus, writing fiction and music and uploading his brain onto every social network. Visit isaacmarion.com for more on these endeavors.
This book as a whole was less than stellar. It was fairly predictable and I really didnt see the point of how these pre stories added anything to the story of Warm Bodies. Most novellas ive read always brought more insight to the book/story as a whole and this one just didnt live up to that.
Go Into This One Knowing
Fan of Warm Bodies give this one a try!
"All opinions are 100% honest and my own."
THIS IS NOT the beginning.
The beginning is darkness and fire, microbes and worms—the very first of us, killing by the billions on their way up the ladder. There is little to learn from the beginning. We prefer the middle, where things are getting interesting.
Who are we? We are everyone. We are every thought and action. Time is just a filing system for the vastness of our Library, but we linger in the present with the unfinished books, watching them write themselves. The world is changing. The globe is bulging and straining, erupting and blazing with miracles, and we don't know what shape it will take when it cools. Even with all of history inside us, we don't know, and this is a little scary.
So we narrow our focus. We zoom in on a country, then a city, then the white rooftop of a stadium, where three young people are sitting on a blanket.
The sky is dark. They are the only ones awake for miles around. It's hard to catch a sunrise in the middle of summer—the sun barely sets before bouncing back up—but today the need to see beauty was urgent. They have seen too much ugliness. Their lives are smeared with it like blood and shit, so thick they can barely breathe, so today they're on the roof in the cold morning air, waiting for the sun to wash them.
Who are these people? Why do they interest us? They are not special—no one is—but there is something in them that draws our gaze. A short, pale girl full of strange dreams. A tall, dark girl with a promise carved on her heart. And a half-alive man whose head buzzes with voices, who talks to us and listens without knowing we exist.
We want them to know we exist. We want them to read our Library and share it with the world, because there is nothing sweeter than being known. But first we have to know them. We are books that read our readers, not a story but a conversation, and we open it with a question:
Who are you?
We circle around them, peering in the windows of their souls.
What's in there? Where did it come from? Show us and we'll show you.
Up and down the Library, from its bright ceiling to its black basement, pages begin to flutter.
a Rafflecopter giveaway
Disclaimer: Thanks to Goodreads and Amazon for the book cover, about the book, and author information. If you can not see the link above you will need to turn off your spam blocker. Buying via these above links allows my site to get a % of the sale at no cost to you. This money gets used to buy items for giveaways.
https://www.facebook.com/CrossroadReview