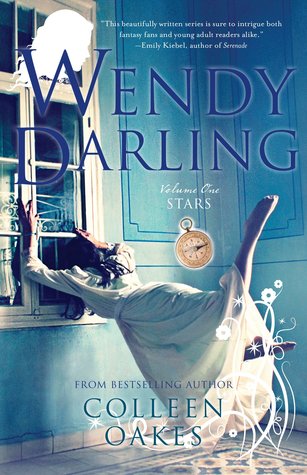 From the Best-Selling Author of Queen of Hearts comes a dark and mesmerizing twist on the beloved Children's Classic, Peter Pan
Wendy Darling has a perfectly agreeable life with her parents and brothers in wealthy London, as well as a budding romance with Booth, the neighborhood bookseller's son. But while their parents are at a ball, the charmingly beautiful Peter Pan comes to the Darling children's nursery and—dazzled by this flying boy with god-like powers—they follow him out of the window and straight on to morning, to Neverland, a intoxicating island of feral freedom.
As time passes in Neverland, Wendy realizes that this Lost Boy's paradise of turquoise seas, mermaids, and pirates holds terrible secrets rooted in blood and greed. As Peter's grasp on her heart tightens, she struggles to remember where she came from—and begins to suspect that this island of dreams, and the boy who desires her—have the potential to transform into an everlasting nightmare.
Colleen Oakes is the author of books for both teens and adults, including The Elly in Bloom Series, The Queen of Hearts Saga (Harper Collins 2016) and The Wendy Darling Saga. She lives in North Denver with her husband and son and surrounds herself with the most lovely family and friends imaginable. When not writing or plotting new books, Colleen can be found swimming, traveling, blogging, decluttering or totally immersing herself in nerdy pop culture. She currently at work on the final Elly novel and another YA fantasy series.
You can visit her webpage at:
www.colleenoakes.net
or at her very lengthy and sometimes embarrassingly personal blog, Heart and Ink at: colleensheartandink.blogspot.com
I love Peter Pan! Especially the live action one with Jeremy Sumpter (I've had a crush on him for years). While reading this book, it really didn't seem like it was a retelling, the only difference is that it is told from Wendy's POV. It was kind of slow paced and you get thrown right into the romance between Wendy and Booth. But thankfully after awhile the book becomes more fast paced and action packed. Sadly the book ends on a cliffhanger...why????
Go Into This One Knowing
Peter Pan retelling, cliffhanger
"All opinions are 100% honest and my own."
Disclaimer: Thanks to Goodreads and Amazon for the book cover, about the book, and author information. If you can not see the link above you will need to turn off your spam blocker. Buying via these above links allows my site to get a % of the sale at no cost to you. This money gets used to buy items for giveaways.
https://www.facebook.com/CrossroadReview