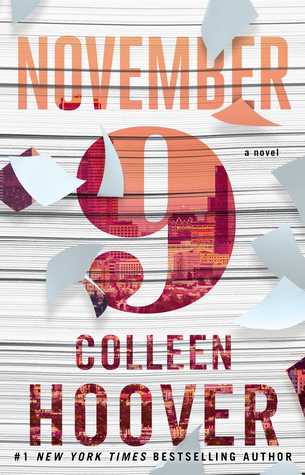 Fallon meets Ben, an aspiring novelist, the day before her scheduled cross-country move. Their untimely attraction leads them to spend Fallon's last day in L.A. together, and her eventful life becomes the creative inspiration Ben has always sought for his novel. Over time and amidst the various relationships and tribulations of their own separate lives, they continue to meet on the same date every year. Until one day Fallon becomes unsure if Ben has been telling her the truth or fabricating a perfect reality for the sake of the ultimate plot twist.
Colleen Hoover is the #1
New York Times
bestselling author of
Slammed, This Girl, Point of Retreat, Hopeless, Losing Hope, Finding Cinderella
,
Maybe Someday
,
Ugly Love
,
Maybe Not
, and
Confess
. She lives in Texas with her husband and their three boys. Please visit ColleenHoover.com.
When this book showed up I went right into reading it. But, then some family stuff happened and I didnt get the chance to finish. Well when I went back into reading it I am not sad to say that I was up until 4am finishing it! I was trying to quiet cry as my husband was sound asleep beside me (sorry hubby!) This book has yet to be the best one from author Colleen Hoover she is getting right up there with author Nicholas Sparks if you ask me. She has a way with her stories where they pull you in, make you fall for the characters, then RIP YOUR EVER LIVING HEART OUT!!! Just to put it back in with 1,000 more % love.
This one was an interesting concept of two people meeting every year on the same day and it worked!
Ok so no spoilers here!! BUT!!!!!!!! if you have read her OTHER books there is a BIG BIG BIG surprise that will pop in this one so make sure to keep your eyes peeled for a few names!!!! I had to go look it up since its been a while and then once I realized who was who I was FREAKING OUT!!!!!!! So yes this is a stand alone but hey people have to have friends!
This story had my emotions all over the place! From happy to sad to mad to OMG ANGRY TEARS! to HAPPY TEARS it will rip your heart out a few times and then put it back.
Writing this I am finding it so hard on what to say about this amazing book. Each character stood on their own the story was well paced, fast, and perfect! I so can't wait to see what else she has in store for us.
Go Into This One Knowing
Fav new author of the year! (yes I'm late coming to the awesomeness that is Colleen Hoover)
O Right PS: Her books are like crack your on page one and then all of a sudden your done and its 4am!
Here are my emotions during this book!
NEW HOOVER BOOK!!! ITS IN MY HAND! #YUMMIES
OMG OMG OMG OMG OMG I KNOW THESE PEOPLE I KNOW THEM!!!!
Parts of this book felt like this
"All opinions are 100% honest and my own."
Win 1 of 5 prize bundles of one signed copy of NOVEMBER 9 and a pair of #November9 sunglasses! Contest is open until November 30
th
a Rafflecopter giveaway
Disclaimer: Thanks to Goodreads and Amazon for the book cover, about the book, and author information. If you can not see the link above you will need to turn off your spam blocker. Buying via these above links allows my site to get a % of the sale at no cost to you. This money gets used to buy items for giveaways.
https://www.facebook.com/CrossroadReview