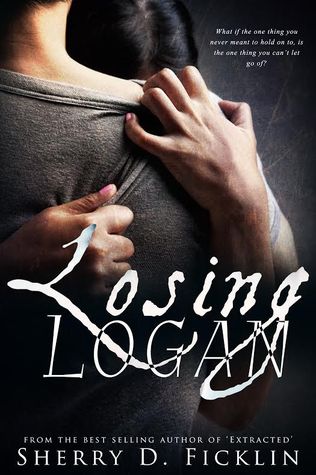 What if the one thing you never meant to hold on to, is the one thing you can't let go of?

Normally finding a hot guy in her bedroom wouldn't irritate Zoe so badly, but finding her childhood friend Logan there is a big problem. Mostly because he's dead.

As the only person he can make contact with, he talks Zoe into helping him put together the pieces surrounding his mysterious death so he can move on.

Thrust into his world of ultra popular rich kids, Zoe is out of her element and caught in the cross-hairs of Logan's suspicious ex-girlfriend and the friends he left behind, each of whom had a reason to want him dead. The deeper they dig to find the truth, the closer Zoe gets to a killer who would do anything to protect his secrets. And that's just the start of her problems because Zoe is falling for a dead guy.
Im so excited to be sharing my review of this book again! It was so amazing! Make sure to check out the live show this Sat at 4pm EST with author Sherry Ficklin! This will be for her two newest books Queen of Always and Playing with Fire! But, questions about all of her books are welcome!
Biography
If you talk to me about this book and I break down into tears just ignore me. They are good ones. This book blew me out of the spirit world and man can Sherry write some yummies! I loved this book so far the best out of everything she has written! This one is a great combo of romance, thriller, and mystery! I didnt know who the killers was and well that epilogue if it wouldn't have been there I would have been very upset! It was great knowing what happened after this story concluded.
The characters were great in this one I wouldn't change anyone for the world. This one will make you laugh, cry, and well cry some more as you work through the pages.
One thing though I did read the little novella that comes before this but this one retells you all of it from Zoe's POV. In Haunting Zoe it tells it from Logan's. So although you don't really need to read it. I still would.
I just added the title to this post and noticed it says its a book 1 OMG I JUST DIED!
Ok some of my favs!
Ghost Cooties!
And of course this one!
"That's low, Zoe."
I shrug. "Kitten bomb. New weapon in the field of allergen warfare."
I just loved this humor in this.
Go Into This One Knowing
ALERT ALERT!! THIS BOOK WILL MAKE YOU CRY!!!
"All opinions are 100% honest and my own."
a Rafflecopter giveaway
Disclaimer: Thanks to Goodreads and Amazon for the book cover, about the book, and author information. If you can not see the link above you will need to turn off your spam blocker. Buying via these above links allows my site to get a % of the sale at no cost to you. This money gets used to buy items for giveaways.
https://www.facebook.com/CrossroadReview