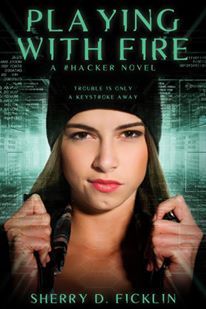 One brilliant young hacker.
One experimental government aircraft.
One chance to keep it all from going up in flames.
Still recovering from her troubled past, Farris is no stranger to change. But when the military transfers her father across the country to an experimental aircraft squadron, settling in to a new life is the least of her problems. As a series of apparent computer glitches threaten the security of the fleet and the blame falls on her father, she decides to put her computer skills to use digging up the truth. Soon she's drawn into the perilous world of a hacker who is determined to ground the fleet—at any cost.
When all signs lead to someone close to her as the mastermind, Farris will have to burn more than bridges to get to the truth. She will have to risk her fragile new life to uncover the identity of the cyber criminal before they can escalate from harmless tampering… to all out murder.
Im so excited to be sharing my review of this book again! It was so amazing! Make sure to check out the live show this Sat at 4pm EST with author Sherry Ficklin! This will be for her two newest books Queen of Always and Playing with Fire! But, questions about all of her books are welcome!
Biography
The only thing I had to question in this one was 1. the thing about the pills. If you have the numbers inscribed on medication you can do a simple search and find it. So that kinda didnt pan out. the 2. thing was that this although its called the Hacker series this one didnt have much hacking in it.
Other than those two things this was a home run! Great suspense/mystery with a little romance tossed in for good measure. The author did a wonderful job with all the computer/military wording I didnt feel lost or confused.
The plot and pacing were very good slow but not to slow and the characters made the story come alive.
Go Into This One Knowing
Hacking with not much hacking, romance, awesome!
"All opinions are 100% honest and my own."
a Rafflecopter giveaway
Disclaimer: Thanks to Goodreads and Amazon for the book cover, about the book, and author information. If you can not see the link above you will need to turn off your spam blocker. Buying via these above links allows my site to get a % of the sale at no cost to you. This money gets used to buy items for giveaways.
https://www.facebook.com/CrossroadReview