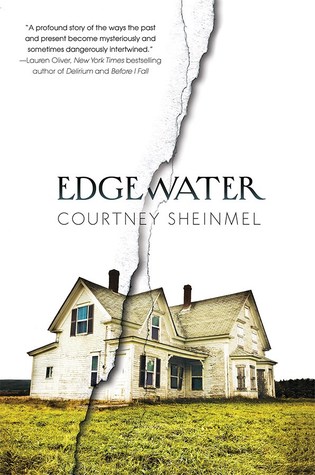 Lorrie Hollander used to be a rich girl who spent her money on boarding school and equestrian camp. But that was
before
. It's been twelve years since Lorrie's mother skipped town and left Lorrie and her sister in the care of her unstable aunt Gigi. Together they live in a decaying mansion called Edgewater, the eyesore in a town of extraordinary wealth and privilege.
While Lorrie is desperately trying to keep her family from collapse, she meets Charlie, the son of an esteemed senator. Terrified that he will learn the truth about her, she holds him at a distance. But Charlie's family is hiding something, too. And Lorrie could never have imagined how their secrets, and their lives, are inextricably bound.
Courtney Sheinmel's
Edgewater
is a gripping story of scandal and romance, shame and redemption, and how one girl must come to terms with a shocking past in order to understand who she truly is.
Born in California. Raised in New York. Went to law school, now write full time. Love: long walks, fresh notebooks, the smell of brownies, pomegranate seeds. Don't love: yogurt, spam (the email kind, and the food kind), deep water, deserted city streets.
Look for my debut YA novel, EDGEWATER, on September 8, 2015.
Also there's a new book in the STELLA BATTS series for young readers -- Stella Batts #8: SUPERSTAR.
Coming soon, the first in a middle grade series, ZACKTASTIC.
And coming not-so-soon, but please add to your TBR list anyway -- AGNES & CLARABELLE (spring 2016), and THE KINDNESS CLUB (fall 2016).
I love to hear from readers! Email me! Tweet me! Ask a question! I promise to reply.
This book blew me away. Simply saying, fantastic!
A stunning debut, Courtney Sheinmel wrote a powerful, beautiful and intriguing novel that has me a fan for life! I recommend this book to any and all that are looking to be transfixed for hours and left with an amazing book hangover at the end!
Go Into This One Knowing
Young Adult
"All opinions are 100% honest and my own."
Disclaimer: Thanks to Goodreads and Amazon for the book cover, about the book, and author information. If you can not see the link above you will need to turn off your spam blocker. Buying via these above links allows my site to get a % of the sale at no cost to you. This money gets used to buy items for giveaways.
https://www.facebook.com/CrossroadReview