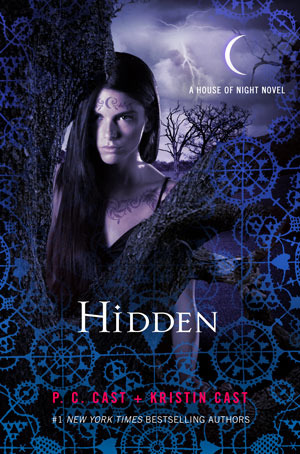 At last, Zoey has what she wanted:
the truth is out. Neferet's evil has been exposed, and the High Council is no longer on her side - but she's far from done wreaking havoc in the vampyre world. First, a mysterious fire ravages the stables. Then, Neferet makes a devastating move that will test them all.
With the seeds of distrust sown and Darkness breeding chaos at the House of Night, everyone must band together - but that's proving to be more difficult than ever before. The twins are barely speaking and the House of Night's former enemy, Kalona, has now become their warrior, pushing their trust to the limit. To top it off, Zoey is pretty darn sure she might be losing her mind. She saw something when she looked at Aurox through the Seer Stone that she can hardly explain to herself, let alone her friends. Is it possible that Heath has come back in a different form? Is that why Zoey's so intrigued by Aurox, when it's so obvious that he's dangerous? And who would believe her if she told them? Zoey knows that following her instinct about Aurox might be just what they need to defeat evil . . . but if she's wrong, it could cause the destruction of those closest to her.
With the tension at a breaking point and friendships on the line, can the nerd herd come together to stop the spread of Darkness before it's too late?
Kristin Cast is a #1 NY Times and #1 USA Today bestselling author who teamed with her mother to write the wildly successful House of Night series. She has editorial credits, a thriving t-shirt line, and a passion for all things paranormal. When away from her writing desk, Kristin loves going on adventures with her friends, family, and significant other, playing with her French Bulldogs, and discovering new hobbies. This year she'll work on swimming, yoga, and adding to her Doctor Who collection.
P.C. Cast was born in Watseka, Illinois, and grew up being shuttled back-and-forth between Illinois and Oklahoma, which is where she fell in love with Quarter Horses and mythology (at about the same time). After high school she joined the United States Air Force and began public speaking and writing. Since her tour in the USAF, she has been speaking and teaching professionally.
This one was very good its the first that I hadn't read before. I do think that it would have been amazing vs just ok if the ending of the last book would have been more secret. Knowing that Heath was in Aurox kinda killed some of the suspense of knowing if he would choose the right path or not.
Other than that this one was still great. We learn a lot about older magic and that in the en there is
Love Always Love!
"All opinions are 100% honest and my own."
Disclaimer: Thanks to Goodreads and Amazon for the book cover, about the book, and author information. If you can not see the link above you will need to turn off your spam blocker. Buying via these above links allows my site to get a % of the sale at no cost to you. This money gets used to buy items for giveaways.
https://www.facebook.com/CrossroadReview