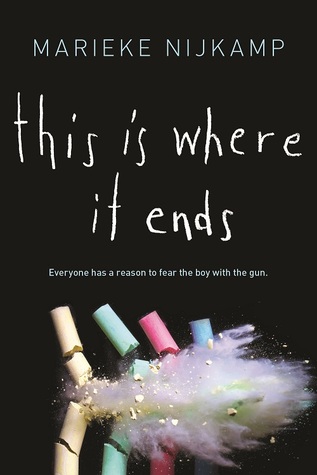 10:00 a.m.
The principal of Opportunity, Alabama's high school finishes her speech, welcoming the entire student body to a new semester and encouraging them to excel and achieve.
10:02 a.m.
The students get up to leave the auditorium for their next class.
10:03
The auditorium doors won't open.
10:05
Someone starts shooting.
Told over the span of 54 harrowing minutes from four different perspectives, terror reigns as one student's calculated revenge turns into the ultimate game of survival.
I wanted to really like this book I know thats a weird thing to say about a book that is about a school shooting. But this is the time we live in. I thank the author for attempting to write a story about a very hard and very real topic. But I'm sorry to say that this one fell flat for me. The characters they were very diverse but they felt under developed and kinda whinny.
The story was an interesting idea but the execution just didnt work for me. The shooter's past just didnt feel like it went deep enough for us to understand why and how he changed into becoming the shooter.
Go Into This One Knowing
Flat, Parts didnt make sense
"All opinions are 100% honest and my own."
Disclaimer: Thanks to Goodreads and Amazon for the book cover, about the book, and author information. If you can not see the link above you will need to turn off your spam blocker. Buying via these above links allows my site to get a % of the sale at no cost to you. This money gets used to buy items for giveaways.
https://www.facebook.com/CrossroadReview