Join us today to chat it up with author Taran Matharu!
Author of Novice!
Watch on Youtube!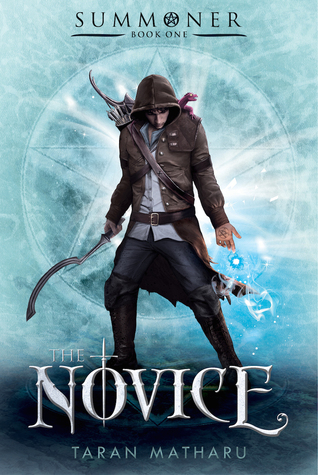 Author: Taran Matharu
Published By: Feiwel & Friends
Release Date: May 5, 2015
Genres: Fantasy, Demons
Pages: 398
Source: Purchased
Add it to Goodreads
When blacksmith apprentice Fletcher discovers that he has the ability to summon demons from another world, he travels to Adept Military Academy. There the gifted are trained in the art of summoning. Fletcher is put through grueling training as a battlemage to fight in the Hominum Empire's war against orcs. He must tread carefully while training alongside children of powerful nobles. The power hungry, those seeking alliances, and the fear of betrayal surround him. Fletcher finds himself caught in the middle of powerful forces, with only his demon Ignatius for help.
As the pieces on the board maneuver for supremacy, Fletcher must decide where his loyalties lie. The fate of an empire is in his hands. The Novice is the first in a trilogy about Fletcher, his demon Ignatius, and the war against the Orcs.
Taran Matharu
wrote his first book when he was nine years old. At twenty-two, he began posting
The Novice
on Wattpad (the online writing website) and reached over three million reads in less than six months.
The Novice
is the first of three books in the Summoner series, and Taran Matharu's fiction debut. Taran lives in London.
When I started this about found that the author based it on Pokemon etc it was kinda a put off. I kept wondering when he iconic Gotta Catchem All. Was going to come up. But I was happily surprised to find that it didnt come up. The demons in this you can't get them all and well so far they don't evolve like Pokemon so that was a plus. I thought this was closer to Lord of the Rings and other parts were very Harry Potter. So both of those worked out great! This was a lower young adult book where when my 11 year old wanted to read it I said that was fine. There
isn't to much in it that I would feel was inappropriate for her to read. There is no romance in this one pretty much at all. Im hoping we get some in the next book. Even though this is def. a boy book which is great since we need more books for boys to read.
Fans of Harry Potter, the lord of the rings, and more unite in this debut book that was just amazing! With a breathtaking new take on demons and magic this story is sure to delight the new comer to young adult as well as adults alike! In one POV of our hero Fletcher was an awesome character. With great friends and an amazing plot I couldn't put this down!
Go Into This One Knowing
1 POV, Cliffhanger, No Romance
"All opinions are 100% honest and my own."
Disclaimer: Thanks to Goodreads and Amazon for the book cover, about the book, and author information. Buying via these above links allows my site to get a % of the sale at no cost to you. This money gets used to buy items for giveaways. In accordance with FTC guidelines regarding endorsements and testimonials for bloggers, I would like my readers to know that many of the books I review are provided to me for free by the publisher or author of the book in exchange for an honest review. I am in no way compensated for any reviews on this site. All donations are to help keep this site running via costs from shipping, .com charges, and other giveaways.
https://www.facebook.com/CrossroadReview