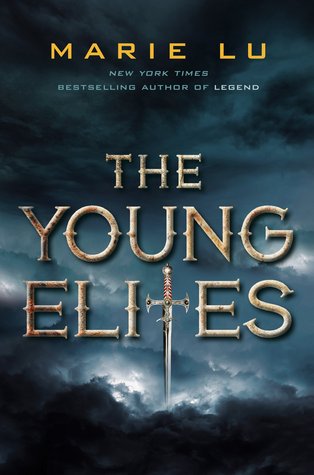 Author:
Marie Lu
Published By:
G.P. Putnam's Sons Books for Young Readers
Release Date:
October 7th 2014
Genres: Fantasy, Dystopian, Teens with Powers
Pages:
355
Source: Purchased
Add it to Goodreads
I am tired of being used, hurt, and cast aside.
Adelina Amouteru is a survivor of the blood fever.
A decade ago, the deadly illness swept through her nation. Most of the infected perished, while many of the children who survived were left with strange markings. Adelina's black hair turned silver, her lashes went pale, and now she has only a jagged scar where her left eye once was. Her cruel father believes she is a malfetto, an abomination, ruining their family's good name and standing in the way of their fortune. But some of the fever's survivors are rumored to possess more than just scars—they are believed to have mysterious and powerful gifts, and though their identities remain secret, they have come to be called the Young Elites.
Teren Santoro works for the king.
As Leader of the Inquisition Axis, it is his job to seek out the Young Elites, to destroy them before they destroy the nation. He believes the Young Elites to be dangerous and vengeful, but it's Teren who may possess the darkest secret of all.
Enzo Valenciano is a member of the Dagger Society.
This secret sect of Young Elites seeks out others like them before the Inquisition Axis can. But when the Daggers find Adelina, they discover someone with powers like they've never seen.
Adelina wants to believe Enzo is on her side, and that Teren is the true enemy. But the lives of these three will collide in unexpected ways, as each fights a very different and personal battle. But of one thing they are all certain: Adelina has abilities that shouldn't belong in this world. A vengeful blackness in her heart. And a desire to destroy all who dare to cross her.
It is my turn to use. My turn to hurt.
Marie Lu (www.marielu.org) is the author of the
New York Times
bestselling novels
Legend,
Prodigy,
and
Champion
. She graduated from the University of Southern California and jumped into the video game industry, working for Disney Interactive Studios as a Flash artist. Now a full-time writer, she spends her spare time reading, drawing, playing Assassin's Creed, and getting stuck in traffic. She lives in Los Angeles, California (see above: traffic), with one husband, one Chihuahua mix, and two Pembroke Welsh corgis.
So I invested almost half of this book. And well I didnt get to it. I stopped at pg. 160 and just put it down and didnt look back. This book was a drag for me and well it makes me sad since I have both book one and two signed buy the author!
The characters were ok not great and well the main character who kept saying that she was filled with darkness just really made me want to slap her. I kept hoping that she was going to go bat s*** crazy on someone but she never did! I mean you can't keep saying that there is a darkness inside of her. Well I would really like to SEE that. All I got was a whinny little girl who all she wanted to do was cry. Where was the girl who wouldn't take people's crap who liked killing who HAD darkness inside of her! Bring It On Little Girl!
I wish this story would have been worked with just a little more. I think it could have turned out to be a page tuner where you couldn't put it down. But the way it sits for this reader its just a no go. No real world building, meh characters, and a story that just didnt work for me.
I really thought that I was going to get a kick butt herione but all I was one that was all talk and no action. IE the following
She says
I am tired of being used, hurt, and cast aside.
Ok so suck it up and kick some ASS!!!
Go Into This One Knowing
MEH ie. Board out of my mind!!!
"All opinions are 100% honest and my own."
Join us!
Disclaimer: Thanks to Goodreads and Amazon for the book cover, about the book, and author information. Buying via these above links allows my site to get a % of the sale at no cost to you. This money gets used to buy items for giveaways. In accordance with FTC guidelines regarding endorsements and testimonials for bloggers, I would like my readers to know that many of the books I review are provided to me for free by the publisher or author of the book in exchange for an honest review. I am in no way compensated for any reviews on this site. All donations are to help keep this site running via costs from shipping, .com charges, and other giveaways.
https://www.facebook.com/CrossroadReview