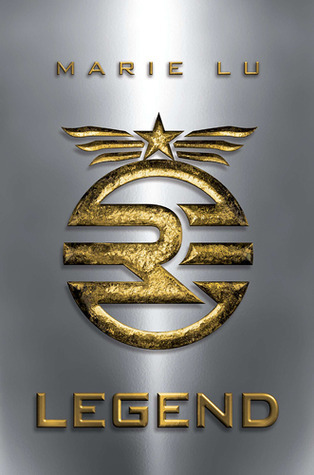 Author: Marie Lu
Published By: Putnam Juvenile
Release Date: Nov. 2011
Genres: Dystopian, Science Fiction
Pages: 305
Source: Purchased
Add it to Goodreads
What was once the western United States is now home to the Republic, a nation perpetually at war with its neighbors. Born into an elite family in one of the Republic's wealthiest districts, fifteen-year-old June is a prodigy being groomed for success in the Republic's highest military circles. Born into the slums, fifteen-year-old Day is the country's most wanted criminal. But his motives may not be as malicious as they seem.
From very different worlds, June and Day have no reason to cross paths—until the day June's brother, Metias, is murdered and Day becomes the prime suspect. Caught in the ultimate game of cat and mouse, Day is in a race for his family's survival, while June seeks to avenge Metias's death. But in a shocking turn of events, the two uncover the truth of what has really brought them together, and the sinister lengths their country will go to keep its secrets.
New York Times
bestselling author Marie Lu (www.marielu.org) graduated from the University of Southern California and jumped into the video game industry, working for Disney Interactive Studios as a Flash artist. Now a full-time writer, she spends her spare time reading, drawing, playing Assassin's Creed, and getting stuck in traffic. She lives in Los Angeles, California (see above: traffic), with one boyfriend, one Chihuahua mix, and two Pembroke Welsh corgis.
Here we are again. Well it seems that Marie Lu is just not the author for me. This is the second of her books that I just loved the start but not the middle. This one I got to almost 100 paged before this one just turned to mush for me. I think it was really June that I just didnt click with. Her beginning chapters were wonderful edgy etc. But once she was hot on the trial of Day they just got boring.
The other issue was just believability. I mean I understand that Day had the goods but he also had a bad knee.
So for me I think I just don't care for her writing. It starts out wonderful but then dies a horrible death in the middle.
Go Into This One Knowing
Beginning GREAT
Middle Dies
Ending I don't even care!
"All opinions are 100% honest and my own."
Disclaimer: Thanks to Goodreads and Amazon for the book cover, about the book, and author information. Buying via these above links allows my site to get a % of the sale at no cost to you. This money gets used to buy items for giveaways. In accordance with FTC guidelines regarding endorsements and testimonials for bloggers, I would like my readers to know that many of the books I review are provided to me for free by the publisher or author of the book in exchange for an honest review. I am in no way compensated for any reviews on this site. All donations are to help keep this site running via costs from shipping, .com charges, and other giveaways.
https://www.facebook.com/CrossroadReview