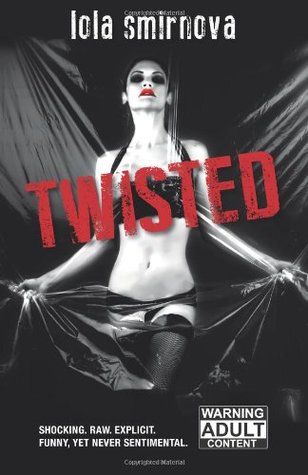 Author:
Lola Smirnova
Published By:
Createspace Independent Publishing Platform
Release Date:
January 21st 2014
Genres: Adult
Pages:
314
Source:
Add it to Goodreads
Back in the 90's, the corrupt post-Soviet Ukraine with its faltering economy, is thrown into a devastating depression. Times are hard. Opportunities are scarce.

Three eager young sisters – Natalia, Lena and Julia - dream of a better life and weigh their options: do they stay and struggle like their parents, or join scores of their compatriots in the sex trade in glittering western European cities, who earn in a night what they'd take several months to earn at home? Naive and tempted by the allure of 'quick' money, the girls set off on an adventure that changes their lives forever...

Can they stay out of trouble enough to fulfill their ambitions?
Can they hold on to their idealism in a world where depravity and danger are constant companions?
How far are they willing to go to make a buck?

Inspired by real-life events, Twisted is a fascinating New Adult SUSPENSE THRILLER about vulnerability, courage and the art of making a living in the sex trade...

'TWISTED' IS THE FIRST BOOK OF A PLANNED TRILOGY. THE SECOND ONE - 'CRAVED' - IS ABOUT TO BE RELEASED! To stay updated follow Lola on Facebook -https://www.facebook.com/twistedlolas... or Twitter - @AuthorSmirnova.
Lola Smirnova is an author from Ukraine, who loves twisting a suspenseful tale through the dark lens of realism around the sexual underworld, so clocked in secrecy and shame. Lola's work is inspired by real-life events and is meant for the open-minded readers who are not afraid of a little blood, sweat and semen.
Her debut novel Twisted was released in 2014. The book placed as Honorable Mention in General Fiction Category of The 2014 London Book Festival's Annual Competition and took 3rd place at The Drunken Druids International Book Award 2014.
Lola released her second book - sequel to Twisted - Craved in July 2015.
Now living in South Africa, she is working on her third book of a Twisted trilogy, which proves just how many fascinating stories she has to share about the ordinary women in the global sex industry.
You can contact Lola via twisted@lolasmirnova.com
I really don't read books like this because books are my escape from my life. There were somethings in it I liked and some not so much. Some parts of the story get a little graphic and I want to feel bad for the girls but I can't because they put themselves in that situation. If you enjoy books like this, check it out.
Go Into This One Knowing
can be a bit graphic
"All opinions are 100% honest and my own."
Disclaimer: Thanks to Goodreads and Amazon for the book cover, about the book, and author information. Buying via these above links allows my site to get a % of the sale at no cost to you. This money gets used to buy items for giveaways. In accordance with FTC guidelines regarding endorsements and testimonials for bloggers, I would like my readers to know that many of the books I review are provided to me for free by the publisher or author of the book in exchange for an honest review. I am in no way compensated for any reviews on this site. All donations are to help keep this site running via costs from shipping, .com charges, and other giveaways.
https://www.facebook.com/CrossroadReview