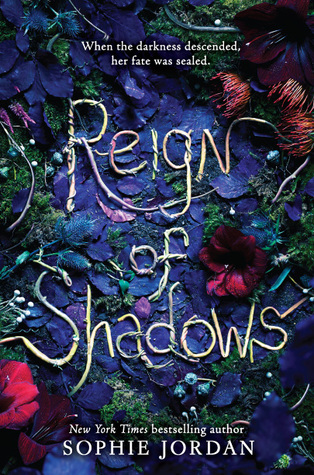 Genres: Retelling/Fantasy
Pages: 304
Source: Purchased/Publisher
Add it to Goodreads
Seventeen years ago, an eclipse cloaked the kingdom of Relhok in perpetual darkness. In the chaos, an evil chancellor murdered the king and queen and seized their throne. Luna, Relhok's lost princess, has been hiding in a tower ever since. Luna's survival depends on the world believing she is dead.

But that doesn't stop Luna from wanting more. When she meets Fowler, a mysterious archer braving the woods outside her tower, Luna is drawn to him despite the risk. When the tower is attacked, Luna and Fowler escape together. But this world of darkness is more treacherous than Luna ever realized.

With every threat stacked against them, Luna and Fowler find solace in each other. But with secrets still unspoken between them, falling in love might be their most dangerous journey yet.

With lush writing and a star–crossed romance, Reign of Shadowsis Sophie Jordan at her best.
Sophie Jordan grew up on a pecan farm in the Texas hill country, where she wove fantasies of dragons, warriors, and princesses. A former high school English teacher, she's also the
New York Times
bestselling author of Avon historical romances and the Firelight series. She now lives in Houston with her family. When she's not writing, she spends her time overloading on caffeine (lattes and Diet cherry Coke preferred), talking plotlines with anyone who will listen (including her kids), and cramming her DVR with true-crime and reality-TV shows.
Ok I need a minute. I am in the car writing this review on my phone. And when you see this about a week or so has gone by. I just I ended up finishing this while taking my oldest daughter to the ER. (She has strep que the balloons) and I was just blown away! I've only read this authors other series Uninvited and that one was amazing as well. This one though man it just BLEW MY MIND!
This is a slight retelling of Rapunzel. I say it's Tangled meets The Forest of Hands and Teeth. The MC Is Luna and she is your average daughter of the dead King and Queen hidden away in her tower for safe keeping. But unlike most lost princesses this one is just slightly different. I'm not going to tell you as its a major spoiler BUT it sets her apart from other characters I've read! It's awesome!
Superpowers aside this story is amazing Luna's world is covered in a perpetual darkness except for an hour a day which is called midnight (If I remember that right, sorry its been a LONG DAY) During the dark hours there are these zombie like creatures called dwellers they def. had me reading this with the light on.
On that note DONT I repeat DONT read chapter 20 if your eating. I made that mistake.......it wasn't pretty!
The story line of this book is pretty much survival and to get to this other land where the dwellers aren't supposed to be. It kinda reminded me of the books Under the Never Sky by Veronica Rossi and Breathe by Sarah Crossan as well as the Maze Runner.
This book has no love triangle. But it does end on a cliffhanger that you will be screaming about! Have you read the Murder Complex by Lindsey Cummings? Well if you have that's the kind of cliffhanger that this book leaves you with! It's KILLER.
Also right before this death heart ripping cliffhanger. We find out some information that had me screaming in the car when I found out. If you've read this book YOU KNOW WHAT IM TALKING ABOUT!
Go Into This One Knowing
"All opinions are 100% honest and my own."
Disclaimer: Thanks to Goodreads and Amazon for the book cover, about the book, and author information. Buying via these above links allows my site to get a % of the sale at no cost to you. This money gets used to buy items for giveaways. In accordance with FTC guidelines regarding endorsements and testimonials for bloggers, I would like my readers to know that many of the books I review are provided to me for free by the publisher or author of the book in exchange for an honest review. I am in no way compensated for any reviews on this site. All donations are to help keep this site running via costs from shipping, .com charges, and other giveaways.
https://www.facebook.com/CrossroadReview