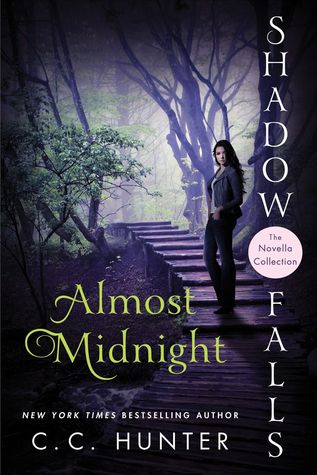 Published By: St. Martin's Griffin
Release Date: TODAY
Genres: Paranormal
Pages: 407
Source: Publisher
Add it to Goodreads
Novella Collection
Nestled deep in the woods, Shadow Falls is a secret camp where teens with supernatural powers learn to harness their abilities and live in the normal world.
Independent and strong-willed Della Tsang did not believe in vampires...until she became one. Chase Tallman is the newest member of Shadow Falls, but what made him into the sexy, mysterious vampire he is today? And what led him to Della Tsang? And for Miranda Kane, magic has always been something she's struggled with, but when an opportunity to test her powers takes her to Paris, she'll have to prove that she's a witch to be reckoned with and belongs at Shadow Falls.
Fans won't want to miss these four remarkable stories of love, magic and friendship
C.C. HUNTER is the author of the young adult fantasy series Shadow Falls, including the books
Born at Midnight
and
Awake at Dawn
. She is lives in Tomball, Texas, where she's at work on her next novel.
I'm so happy all the novellas are in one PRINT book! Now my collection well be almost complete. All the stories in this were amazing (as usual) and I love all the characters. Even Fredericka. I hated her at first but after reading her story, I felt so bad for her. CC Hunter is one of my favorite authors and I love the Shadow Falls series and spin-offs.

Go Into This One Knowing
That some novellas are worth reading!
"All opinions are 100% honest and my own."
How did you come up with the titles of your books?
I love titles. I usually have to write a while and then something I write just pops out at me. When I wrote in the first book about everyone at the camp being born at midnight, it hit me. That's the title. Then my editor liked it so much that she decided to find similar titles. So we started brainstorming. I came up with, Cold at Dawn. She countered with Awake at Dawn, and I liked it. The interesting thing about the series title is that originally it was Bone Creek Camp. And at the last minute, marketing at St. Martins said it sounded like a western. They came up with Shadow Falls. I thought it fit. Then she said, "There's one problem. There's no falls at the camp." The book was about ready to go to print. She suggested I just add a falls. But I felt if the whole series was going to be named after the falls, then the falls better be important. So I went into Born at Midnight and just had Kylie hear the falls a lot. By the time I was writing the second book, I had figured out how the falls was going to be important.
Is there a message in your books that you want readers to grasp?
I don't really set out to write a message or theme. But I've come to realize that all my books have a similar theme. These themes come from the characters. That said, because the characters come from me, the themes are ones that I have struggled with in my life. Discovering who you are, even while your world is in chaos. I also think I give a nod to the value of friendship and family and the use of laughter to overcome obstacles. So if there is a message in my work, I hope that's it.
What books influenced your life the most?
I get asked this a lot. Because I'm dyslexic, I didn't read a lot as teen. The first chapter book I completed was Charlotte's Web by E.B. White when I was in third grade and it left an impression on me. While it was about a spider, a pig, and some barn animals, it's basically a story about a bunch of different characters coming together and learning to get along and love each other. Hmm, in a way, doesn't that kind of sound like Shadow Falls?
What are your current projects?
I am currently working on Miranda's book. Miranda, the witch who starred in Spellbinder, is one of the three main characters in my Shadow Falls books, and I'm having fun going deeper into her character. I also write humorous romantic suspense novels as Christie Craig, so I'm always working on a book.
If you could, would you change anything in your books?
Hmm… That's a hard question. Don't get me wrong, I occasionally think about a scene and the thought hits, I should have had Della say that, or Chase say this. But I try not to get caught up on trying to change things, but instead, I want figure out the next thing I need to write.
What made you want to be a writer?
Being dyslexic, I didn't even consider being a writer. I didn't read for pleasure until I was over twenty-one. But being southern, storytelling was a part of my life. Even at the dinner table when we were telling about our day, you had to make it good. So, instead of reading, I retreated alone to a spot in the woods, or I'd go to a small creek about a mile from my house, and I told myself stories about cute boys and adventures. I was twenty-three before I even considered trying to write. I had to learn to write well and also how to deal with the dyslexia. But from the very beginning, storytelling was in my blood.
What did you find most challenging about writing the Shadow Falls series?
I had never written a series where it followed one character. I wasn't even that much into reading series, because I felt a story needed a beginning, middle and an end. I worked hard to come up with a story arc that would carry over from one book to the other and still have a story that was complete in each book. Another challenge was at first I worried about writing in all the folklore. What if I got it wrong? Then I realized, these were my vampires, my witches, my shapeshifters, I could write them anyway I wanted.
Why did you choose to do a spin off? How did you go about choosing the characters the spin off would be about?
Della would just not leave me alone. My editor hadn't asked for a novella. But when I was finishing Chosen at Nightfall, the plot of Saved at Sunrise suddenly just hit me. I wrote it without even telling anyone. Then when I let my editor read it, she loved it so much she suggested I do Della's books. Ahh, then came Miranda. She needed her story to be told, too. Then poor Fredericka just kept tapping on my mind. When I redeemed her in Whispers at Moonrise, I started wondering about her past, about what made her who she was and why she made the mistakes that she made. I mean, Lucas liked her, not as a girlfriend, but as a person, so I knew she had some good in her. I think of all my novellas, her story might be my favorite.
How did it feel when you first found out that you were being published?
I can't even begin to tell you how it felt. I had written for ten years, TEN YEARS, before I sold my first book. It was amazing to finally see my goal come true. Being dyslexic, I had to work harder than most people to get my words right. I had received thousands of rejections on my books and short pieces I wrote for magazines. When I finally got that call, all those years of work, all the tears I'd shed because of the rejections, was worth it.
Thank you so much for having me. I'll end with just a note to anyone who has a goal—the goal doesn't even have to be about writing: never give up on your dreams. Hold them tightly and do something small every day to work toward those dreams.
a Rafflecopter giveaway
Disclaimer: Thanks to Goodreads and Amazon for the book cover, about the book, and author information. Buying via these above links allows my site to get a % of the sale at no cost to you. This money gets used to buy items for giveaways. In accordance with FTC guidelines regarding endorsements and testimonials for bloggers, I would like my readers to know that many of the books I review are provided to me for free by the publisher or author of the book in exchange for an honest review. I am in no way compensated for any reviews on this site. All donations are to help keep this site running via costs from shipping, .com charges, and other giveaways.
https://www.facebook.com/CrossroadReview