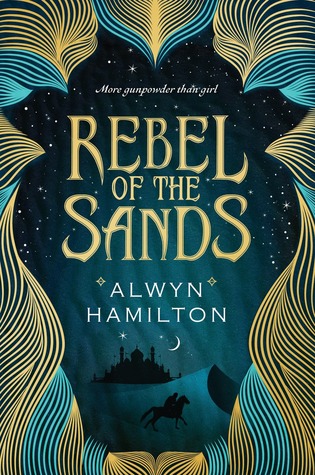 Add it to Goodreads
She's more gunpowder than girl—and the fate of the desert lies in her hands.

Mortals rule the desert nation of Miraji, but mystical beasts still roam the wild and barren wastes, and rumor has it that somewhere, djinni still practice their magic. But there's nothing mystical or magical about Dustwalk, the dead-end town that Amani can't wait to escape from.

Destined to wind up "wed or dead," Amani's counting on her sharpshooting skills to get her out of Dustwalk. When she meets Jin, a mysterious and devastatingly handsome foreigner, in a shooting contest, she figures he's the perfect escape route. But in all her years spent dreaming of leaving home, she never imagined she'd gallop away on a mythical horse, fleeing the murderous Sultan's army, with a fugitive who's wanted for treason. And she'd never have predicted she'd fall in love with him...or that he'd help her unlock the powerful truth of who she really is.
In a world where metal and magic clash with deadly consequences, Amani finds herself becoming a myth in the making, legendary for her sharp-shooting skills, more gunpowder than girl. So, inspired by Amani's legendary skills and growing reputation, we would like to share with you our own reputation post, highlighting skills, behaviors, des
igns, or habits that we would be famous for in the blogosphere.
Are you "Known for Excessive Bookshelf Disarray," "Legendary for Having too Many Foreign Editions of Books," or "Famous for DNFing?" As usual, here is the publishers example: I would be "Hunted for being Heartless" with my books—I dog ear pages, I spill water on them, I pile other things on top of them. I totally abuse my books, and they look terrible once I'm done with them! My publishing colleagues always scold me, but it's the way I am!
So each week leading up to the release of this amazing book well be sharing with you why we would be hunted!
Alwyn Hamilton was born in Toronto and spent her early years bouncing between Europe and Canada until her parents settled in France. She left France for Cambridge University to study History of Art at King's College, focusing in on painting in the French Revolution. She then moved to London where she now lives and put her degree to use working for an auction house. REBEL OF THE SANDS is her first novel.
"Multiple Book Copy Hoarder" I'm infamous for buying multiple copies of books that I absolutely am obsessed with. Foreign, trade, paperback, movie-tie in additions, you name it, I've got it. And no... I don't allow anyone to touch them. No touchy.
"All opinions are 100% honest and my own."
a Rafflecopter giveaway
Disclaimer: Thanks to Goodreads and Amazon for the book cover, about the book, and author information. Buying via these above links allows my site to get a % of the sale at no cost to you. This money gets used to buy items for giveaways. In accordance with FTC guidelines regarding endorsements and testimonials for bloggers, I would like my readers to know that many of the books I review are provided to me for free by the publisher or author of the book in exchange for an honest review. I am in no way compensated for any reviews on this site. All donations are to help keep this site running via costs from shipping, .com charges, and other giveaways.
https://www.facebook.com/CrossroadReview