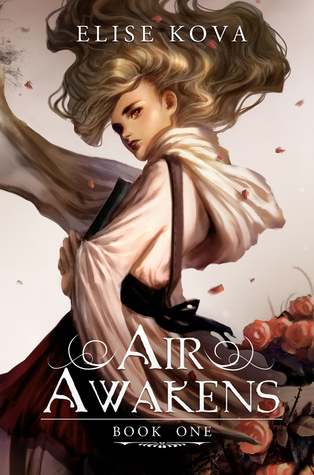 Genres: Young Adult
Pages: 377
Source: Author
Add it to Goodreads
A library apprentice, a sorcerer prince, and an unbreakable magic bond...
The Solaris Empire is one conquest away from uniting the continent, and the rare elemental magic sleeping in seventeen-year-old library apprentice Vhalla Yarl could shift the tides of war.
Vhalla has always been taught to fear the Tower of Sorcerers, a mysterious magic society, and has been happy in her quiet world of books. But after she unknowingly saves the life of one of the most powerful sorcerers of them all—the Crown Prince Aldrik—she finds herself enticed into his world. Now she must decide her future: Embrace her sorcery and leave the life she's known, or eradicate her magic and remain as she's always been. And with powerful forces lurking in the shadows, Vhalla's indecision could cost her more than she ever imagined.
Elise Kova has always had a passion for storytelling. She wrote her first novella, a high-fantasy, in sixth grade. Over the years she's honed her love of literature with everything from fantasy to romance, science fiction to mystery, and whatever else catches her eye.
Elise lives in Saint Petersburg, Florida, where she's currently working on the next installment in her debut YA fantasy series: Air Awakens. She enjoys video games, anime, table-top role playing games, and many other forms of "geekdom."
I feel so bad writing this I so wanted to love this book! The covers are so breathtaking and the story sounded so good!!! But shortly into this book I just had to put it down. The only reason I'm giving it 2 stars is because it had so much potential. The main issue for me in this one was the info dumping and the inconsistency. I feel that this could have been amazing with just a little more editing.
"All opinions are 100% honest and my own."
a Rafflecopter giveaway
Disclaimer: Thanks to Goodreads and Amazon for the book cover, about the book, and author information. Buying via these above links allows my site to get a % of the sale at no cost to you. This money gets used to buy items for giveaways. In accordance with FTC guidelines regarding endorsements and testimonials for bloggers, I would like my readers to know that many of the books I review are provided to me for free by the publisher or author of the book in exchange for an honest review. I am in no way compensated for any reviews on this site. All donations are to help keep this site running via costs from shipping, .com charges, and other giveaways.
https://www.facebook.com/CrossroadReview