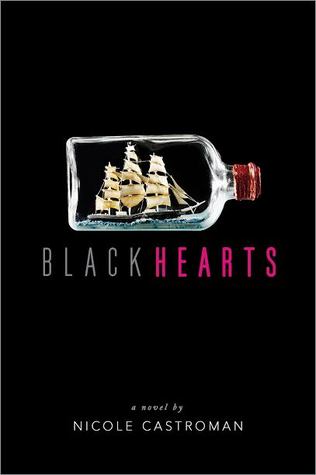 Genres: Historical Romance
Pages: 384
Source: Publisher
Add it to Goodreads
Blackbeard the pirate was known for striking fear in the hearts of the bravest of sailors. But once he was just a young man who dreamed of leaving his rigid life behind to chase adventure in faraway lands. Nothing could stop him—until he met the one girl who would change everything.
Edward "Teach" Drummond, son of one of Bristol's richest merchants, has just returned from a year-long journey on the high seas to find his life in shambles. Betrothed to a girl he doesn't love and sick of the high society he was born into, Teach dreams only of returning to the vast ocean he'd begun to call home. There's just one problem: convincing his father to let him leave and never come back.
Following her parents' deaths, Anne Barrett is left penniless and soon to be homeless. Though she's barely worked a day in her life, Anne is forced to take a job as a maid in the home of Master Drummond. Lonely days stretch into weeks, and Anne longs for escape. How will she ever realize her dream of sailing to Curaçao—where her mother was born—when she's stuck in England?
From the moment Teach and Anne meet, they set the world ablaze. Drawn to each other, they're trapped by society and their own circumstances. Faced with an impossible choice, they must decide to chase their dreams and go, or follow their hearts and stay.
Nicole Castroman received her BA from Brigham Young University and has lived in Germany, Austria, and two different places called Georgia. One is the country near the Black Sea; the other is the state of Georgia where she currently lives with her husband and children.
Blackhearts
is her first novel.
This one is a retelling prequel of how Blackbeard came to be and let me tell you it's a doozy! The only issue I had with it was that I wish the romance would have started sooner than it did. It would haven given the book a little more danger. Other than that it was a breathtaking debut, a historical masterpiece that I will do be hunting down for a signed copy.
The characters in this one are wonderful. Fully formed. I loved the dual POV. It worked so well. The story was on the slower side but it had good pacing it worked well for this story.
This ends on a cliffhanger so I'm REALLY hoping that this is going to be a series. I could also see this as a tv series as well. A story on the high seas! ........o sorry I was swooning.
Wonder Debut Author!
Go Into This One Knowing
Historical Romance, No Love Triangle, Killer Cliffhanger
"All opinions are 100% honest and my own."
Here is a sample of the awesomeness that is this book!
This is Anne from Chapter 1 Enjoy!
Anne's face flushed with anger, and she wished for the hundredth time that she could purchase elsewhere. "And why would I want that piece?" she asked sharply. "Do you know what the master would do if I served that for dinner tonight?"
The butcher grinned. "I know what I'd do," he said.
Gritting her teeth, she gave him what she hoped was a haughty look. "What else do you have?"
Unexpectedly, he grabbed her arm, pulling her close so that her pail hit the table, spilling the produce onto the cobblestones beneath their feet.
"Don't act so high and mighty with me. I've already told you. I'll give you the best cuts, but this time it'll cost you a little extra," he sneered. "I've been a patient man. If you want to please your master, you're going to have to please me first."
Like a dragonfly caught under glass, her heart fluttered. She'd become accustomed to his lewd suggestions, but the grip of his grimy fingers on her arm filled her with a new sense of panic.
"You can please yourself," she hissed, wrenching her arm out of his grasp. With shaking hands she quickly picked up the fruits and vegetables, not bothering to wipe the dirt from their skins. The butcher laughed, an ugly sound that made her stomach churn. She glared at him, turned on her heel, and barreled through the crowd in an attempt to put as much distance between herself and his stall as possible.
a Rafflecopter giveaway
Disclaimer: Thanks to Goodreads and Amazon for the book cover, about the book, and author information. Buying via these above links allows my site to get a % of the sale at no cost to you. This money gets used to buy items for giveaways. In accordance with FTC guidelines regarding endorsements and testimonials for bloggers, I would like my readers to know that many of the books I review are provided to me for free by the publisher or author of the book in exchange for an honest review. I am in no way compensated for any reviews on this site. All donations are to help keep this site running via costs from shipping, .com charges, and other giveaways.
https://www.facebook.com/CrossroadReview