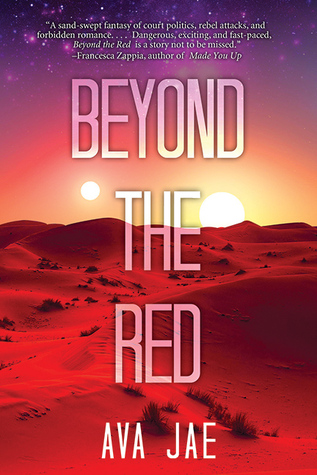 Genres: Young Adult
Pages: 360
Source: Publisher
Add it to Goodreads
Alien queen Kora has a problem as vast as the endless crimson deserts. She's the first female ruler of her territory in generations, but her people are rioting and call for her violent younger twin brother to take the throne. Despite assassination attempts, a mounting uprising of nomadic human rebels, and pressure to find a mate to help her rule, she's determined to protect her people from her brother's would-be tyrannical rule.
Eros is a rebel soldier hated by aliens and human alike for being a half-blood. Yet that doesn't stop him from defending his people, at least until Kora's soldiers raze his camp and take him captive. He's given an ultimatum: be an enslaved bodyguard to Kora, or be executed for his true identity—a secret kept even from him.
When Kora and Eros are framed for the attempted assassination of her betrothed, they flee. Their only chance of survival is to turn themselves in to the high court, where revealing Eros's secret could mean a swift public execution. But when they uncover a violent plot to end the human insurgency, they must find a way to work together to prevent genocide.
Ava Jae
is an author, blogger, YouTuber, college student, and assistant editor at Entangled Publishing. After graduating from the University of Michigan with a BA in English in April 2016, Ava will probably find a bookstore to live in, where she can write her next novel surrounded by the smell of new books and coffee. She can be found on Twitter at @Ava_Jae or at her website avajae.blogspot.com. She resides in Ann Arbor, Michigan.
So what to say about this one? Well first off I am really starting to crack down on this. If you don't know if your going to be making a book two. Then please PLEASE write the book as a stand alone! There are so many books out there that I have and loved and I'm waiting for book two that may NEVER come! This book is like that. If this is a stand alone then the author hates us readers and wants us to die horrible deaths as she has ripped out our hearts! If this is a series than well my rating goes up to a 4 because then its not bad per say its just that well it doesn't say its a series. Ok so I loved how this was more fantasy vs science fiction. It worked well. The setting was breathtaking and the characters were lovable. I really hope we get a book two!
"All opinions are 100% honest and my own."
Disclaimer: Thanks to Goodreads and Amazon for the book cover, about the book, and author information. Buying via these above links allows my site to get a % of the sale at no cost to you. This money gets used to buy items for giveaways. In accordance with FTC guidelines regarding endorsements and testimonials for bloggers, I would like my readers to know that many of the books I review are provided to me for free by the publisher or author of the book in exchange for an honest review. I am in no way compensated for any reviews on this site. All donations are to help keep this site running via costs from shipping, .com charges, and other giveaways.
https://www.facebook.com/CrossroadReview