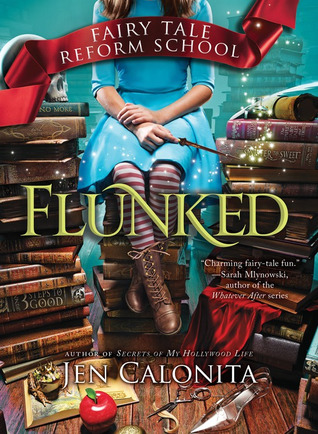 Genres: Retellings
Pages: 256
Source: Purchased
Add it to Goodreads
Would you send a villain to do a hero's job? An exciting new twisted fairy tale series from award-winning author Jen Calonita.
Full of regret, Cinderella's wicked stepmother, Flora, has founded the Fairy Tale Reform School with the mission of turning the wicked and criminally mischievous into upstanding members of Enchantasia.
Impish, sassy 12-year-old Gilly has a history of petty theft and she's not too sorry about it. When she lifts a hair clip, she gets tossed in reform school-for at least three months. But when she meets fellow students Jax and Kayla, she learns there's more to this school than its sweet mission. There's a battle brewing and she starts to wonder: can a villain really change?
JEN CALONITA has interviewed everyone from Reese Witherspoon to Justin Timberlake, but the only person she's ever wanted to trade places with is Disney's Cinderella. She's the award-winning author of the My Secrets of My Hollywood Life series. Jen lives in Merrick, New York with her husband, two sons, and their Chihuahua, Captain Jack Sparrow. Visit jencalonitaonline.com for more.
What to say what to say? I don't read many middle grade books but this one blew me away! I LOVED IT!!! This book is up there with the School for Good and Evil and although that one is higher middle to lower teen this one is all lower to middle grade. It has some great twists and surprises and was easy to follow. It has a great cast of characters and well kinda made me think of the new Descendant's show and books. Fairy Tale villains have been reformed and now run a school. When our MC Gilly finds herself there she thinks its the end of the world. And well I seen so much in this book that just made me so upset for the characters. From the way Gilly's family was treated to a few other things this world really needs some copy write laws.
This was a great light read for all ages. I'm 33 and I loved it!
Go Into This One Knowing
Cuteness! Fantasy! Good vs. Evil!
"All opinions are 100% honest and my own."
Happily Ever After Scrolls
Brought to you by FairyWeb-magically appearing on scrolls throughout Enchantasia for the past ten years!
Fairy Tale Reform School Celebrates Its Fifth Anniversary!
by Beatrice Beez
Poison apples, the sleeping curse, becoming a wolf's supper-five years ago, the citizens of Enchantasia quaked in fear at such evildoing. Well, no more! Thanks to one formerly despised villain, wickedness and criminal behavior are being wiped off the map.
"In the days following Cinderella's wedding, no one would even sell me a loaf of bread," says Flora, the princess's stepmother. Yes, that Flora. The one and only stepmonster who used Cinderella as unpaid help and tried to trick the prince into marrying one of her other daughters.
After Cinderella's misfortune became public, Flora was mortified. "I did some wicked things after Cinderella's-pardon me, Princess Ella's-father died," says Flora. "I was a terrible example for my two daughters. If we wanted to show our faces in Enchantasia again, I knew we had to change-especially me. From that revelation, FTRS was born."
Fairy Tale Reform School is the education program for the wicked and criminally mischievous that Flora created. It has won praise from Princess Ella herself for its success in turning villains into productive members of society. "Flora's transformation is astonishing," Princess Ella told Happily Ever After Scrolls exclusively. "I look forward to seeing their good works continue."
The school's roster of former students turned teachers is huge! There's the Wolf (the esteemed Professor Xavier Wolfington teaches history), the Sea Witch (Madame Cleo is FTRS's etiquette expert) and the Evil Queen (Professor Harlow teaches psychology and runs group therapy sessions).
"Thanks to our teachings, crime in Enchantasia has dropped to an all-time low," Flora says proudly. Since it opened, FTRS has welcomed more than five hundred gnomes, trolls, dwarfs, elves, mer-folk, and other fairy-tale students into its dormitories for grades six through twelve at its campus on the outskirts of Enchantasia near the Hollow Woods.
To celebrate FTRS's fifth anniversary, profiles of FTRS's teachers will be magically popping up on Happily Ever After Scrolls in the coming weeks. Check your scrolls often for more coverage!
Disclaimer: Thanks to Goodreads and Amazon for the book cover, about the book, and author information. Buying via these above links allows my site to get a % of the sale at no cost to you. This money gets used to buy items for giveaways. In accordance with FTC guidelines regarding endorsements and testimonials for bloggers, I would like my readers to know that many of the books I review are provided to me for free by the publisher or author of the book in exchange for an honest review. I am in no way compensated for any reviews on this site. All donations are to help keep this site running via costs from shipping, .com charges, and other giveaways.
https://www.facebook.com/CrossroadReview