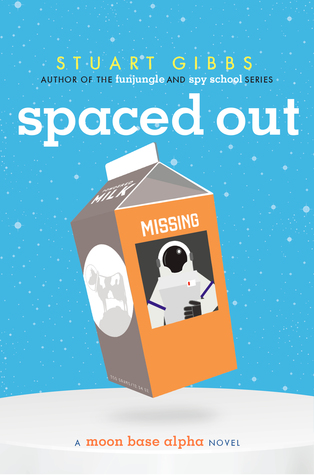 Genres: Middle Grade
Pages:
352
Source: Publisher
Add it to Goodreads
The moon base commander has gone missing and Dash Gibson is on the case in the second mind-boggling mystery of the Edgar-nominated Moon Base Alpha series from the New York Times bestselling author of Belly Up and Spy School.
There's nowhere to hide on the world's first moon base. After all, it's only the size of a soccer field. So when Nina Stack, the commander of Moon Base Alpha, mysteriously vanishes, the Moonies are at a total loss.
Though he may be just twelve years old, Dashiell Gibson is the best detective they've got. But this confusing mystery pushes him to his limits. Especially since he has his own huge secret to protect. With the fate of the entire human race hanging in the balance, will Dash be able to solve the mystery of the missing Moonie?
A few interesting things that Stuart Gibbs has done:
Worked at a zoo
Researched capybaras (the world's largest rodents)
Climbed Mount Kilimanjaro
Faced down a charging elephant
Ice-climbed a glacier in Patagonia
Visited the cockpit of the Space Shuttle Atlantis
Helped rescue sixteen children from drowning off the coast of Israel
Written a few movies that actually got made (See Spot Run; Repli-Kate; Showdown)
Worked on a few animated movies (Anastasia; Open Season 3; Mickey, Donald, Goofy: The Three Musketeers)
He is currently at work on some more books. "Big Game," the third book in the FunJungle series will be out in October 2015. "Spaced Out," the sequel to "Space Case" will be out in spring of 2016. And the fourth book in the Spy School series will be out in the fall of 2016.
You can learn more about what Stuart is up to at www.stuartgibbs.com
This is such a cute series! There is lots of mystery and humor. It was a great read with enjoyable characters and story line. It was a pretty fast read. I recommend this if you want a cute and fast read!!
"All opinions are 100% honest and my own."
a Rafflecopter giveaway
Disclaimer: Thanks to Goodreads and Amazon for the book cover, about the book, and author information. Buying via these above links allows my site to get a % of the sale at no cost to you. This money gets used to buy items for giveaways. In accordance with FTC guidelines regarding endorsements and testimonials for bloggers, I would like my readers to know that many of the books I review are provided to me for free by the publisher or author of the book in exchange for an honest review. I am in no way compensated for any reviews on this site. All donations are to help keep this site running via costs from shipping, .com charges, and other giveaways.
https://www.facebook.com/CrossroadReview