Here are these weeks 3 books that well we've read by now and we think they are amazing and shouldnt be missed!!!
Nym and Draewulf prepare to face off in a battle destined to destroy more lives than it saves.
With the loss of Tulla still fresh in mind, Rasha's fate unknown, and Lord Myles taken over by the dark ability, Nym and the few Bron soldiers rush to warn Cashlin's queen. Only to discover it may already be too late for the monarch and her eerie kingdom. As the Luminescents are sifting through Nym's past memories and the queen is reading into her future, Nym is given a choice of how to defeat Draewulf, but the cost may be more than she can bear. And even then there are no guarantees.
With that reality burrowing into her bones—along with the guilt of the lives she will sacrifice—Nym returns to her homeland of Faelen to raise an army of peasants through promises of freedom. But when the few friends she has left, along with the world and citizens she loves, are staring down the face of a monster and his undead army, will Nym summon every element her blood is capable of controlling . . . or surrender to a different strength—one of sacrifice?
Because in the end, death may be more merciful for them all.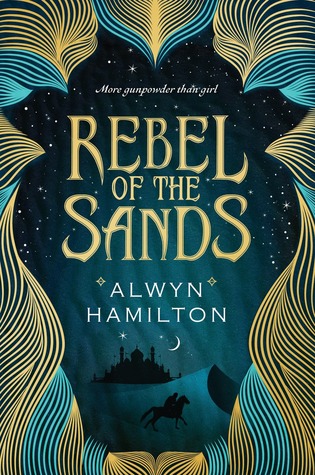 She's more gunpowder than girl—and the fate of the desert lies in her hands.

Mortals rule the desert nation of Miraji, but mystical beasts still roam the wild and barren wastes, and rumor has it that somewhere, djinni still practice their magic. But there's nothing mystical or magical about Dustwalk, the dead-end town that Amani can't wait to escape from.

Destined to wind up "wed or dead," Amani's counting on her sharpshooting skills to get her out of Dustwalk. When she meets Jin, a mysterious and devastatingly handsome foreigner, in a shooting contest, she figures he's the perfect escape route. But in all her years spent dreaming of leaving home, she never imagined she'd gallop away on a mythical horse, fleeing the murderous Sultan's army, with a fugitive who's wanted for treason. And she'd never have predicted she'd fall in love with him...or that he'd help her unlock the powerful truth of who she really is.
A lush new fantasy about finding the will to lead against all odds, perfect for fans of Shadow and Bone.
Keri has been struggling to run her family bakery since her mother passed away. Now the father she barely knew—the Lord of Nimmira—has died, and ancient magic has decreed that she will take his place as the new Lady. The position has never been so dangerous: the mists that hide Nimmira from its vicious, land-hungry neighbors have failed, and Keri's people are visible to strangers for the first time since the mists were put in place generations ago. At the same time, three half-brothers will their own eyes on the crown make life within the House just as dangerous as the world outside.
But Keri has three people to guide her: her mysterious Timekeeper, clever Bookkeeper, and steadfast Doorkeeper. Together they must find a way to repair the boundary before her neighbors realize just how vulnerable Nimmira is.
With a spunky main character, lyrical storytelling, and hidden romance, The Keeper of the Mist is an engrossing story that is full of adventure.
Disclaimer: Thanks to Goodreads and Amazon for the book cover, about the book, and author information. Buying via these above links allows my site to get a % of the sale at no cost to you. This money gets used to buy items for giveaways. In accordance with FTC guidelines regarding endorsements and testimonials for bloggers, I would like my readers to know that many of the books I review are provided to me for free by the publisher or author of the book in exchange for an honest review. I am in no way compensated for any reviews on this site. All donations are to help keep this site running via costs from shipping, .com charges, and other giveaways.
https://www.facebook.com/CrossroadReview