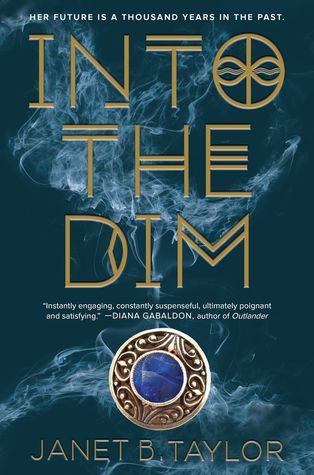 Genres: Time Travel / Science Fiction
Pages: 432
Source: Netgalley / Purchased
Add it to Goodreads
When fragile, sixteen-year-old Hope Walton loses her mom to an earthquake overseas, her secluded world crumbles. Agreeing to spend the summer in Scotland, Hope discovers that her mother was more than a brilliant academic, but also a member of a secret society of time travelers. Trapped in the twelfth century in the age of Eleanor of Aquitaine, Hope has seventy-two hours to rescue her mother and get back to their own time. Along the way, her path collides with that of a mysterious boy who could be vital to her mission . . . or the key to Hope's undoing. Addictive, romantic, and rich with historical detail,
Into the Dim
is an
Outlander
for teens.
The 2013 winner of the coveted #PitchWars, Janet B Taylor, has four years' experience writing web content for a major television network fan site (CBS) that garners over a hundred thousand hits a day. Janet travels extensively to those places where her novels are set, often roaming around at night to commune with the famous historical figures about which she loves to write. She is a member of several writing organizations, including the SCBWI and the Historical Novel Society, and lives in a tiny town in Arkansas with her family.
This book was stated to be Outlander for Teens and although it is a time travel book I just didnt see it. Other than the setting it really didnt have anything in common. But that being said this book was still awesome.
This one we follow MC Hope as she is dealing with the loss of her mom and being sent to Scotland to see her aunt that she has never met. Of course via the about the book you know that her mom is stuck in the past. I really wished that they wouldn't have told you about it since it takes away from the mystery that Hope has to deal with. Parts of the book were very predicable. But in the end that was fine. It didnt take away to much. The ending doesnt end on a cliffhanger which was nice and I really can't wait for the next one.
The story itself was a little slower. The first 90 pages was all the mystery leading up to Hope finding out about the Time Travel. (which is why I wish they would have left that out) After that the action picks up and were wicked back to the middle ages where we find that well not everyone was very nice.
We get some higher teen issues to deal with (rape etc) so not for the younger crowd.
There is a lot of science talk that although I did understand part of it that is just for the fact that things like Ley Lines etc are a big part of paganism. So for someone who doesnt know about things like that might be slightly lost. So a basic knowledge of that might come in handy. But a quick google search you should be good.
This one also has some great religious defending of the Jews in it that I loved! I really just wanted to hop into the book and slap some people but luckily the characters in the book did it for me. (it was awesome!)
As for the characters I really loved Hope. In this she learns to face her fears and finds out more about herself than she ever knew possible. I kinda wish I had her memory as it would come in handy! She had hopes and fears and the author just created her to be real. I loved that she wasnt perfect and she was a joy to read. My other fav character would have to be Phoebe she is a kick butt character with blue hair! What more could you ask for? LOVE HER! and her personality!
In the end this one is closer to science fiction vs. fantasy. Its one that you shouldnt pass up!
Book in a Pinch
Time Travel, Adventure, Romance, and more await the reader in this new journey though time!
Go Into This One Knowing
Higher Teens, No Cliffhanger, No Love Triangle, Time Travel
"All opinions are 100% honest and my own."
Disclaimer: Thanks to Goodreads and Amazon for the book cover, about the book, and author information. Buying via these above links allows my site to get a % of the sale at no cost to you. This money gets used to buy items for giveaways. In accordance with FTC guidelines regarding endorsements and testimonials for bloggers, I would like my readers to know that many of the books I review are provided to me for free by the publisher or author of the book in exchange for an honest review. I am in no way compensated for any reviews on this site. All donations are to help keep this site running via costs from shipping, .com charges, and other giveaways.
https://www.facebook.com/CrossroadReview