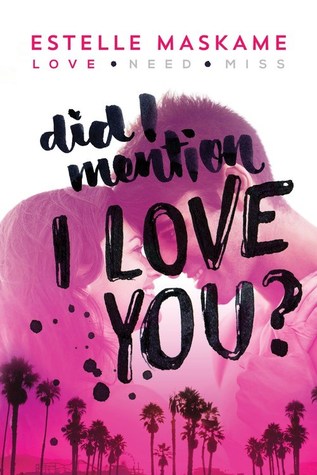 Author:
Estelle Maskame
Published By: Sourcebooks
Release Date: Dec.
1st 2015
Genres: Romance
Pages: 393
Source: Publisher
Add it to Goodreads
When sixteen-year-old Eden Munro agrees to spend the summer with her estranged father in the beachfront city of Santa Monica, California, she has no idea what she's letting herself in for. Eden's parents are divorced and have gone their separate ways, and now her father has a brand new family. For Eden, this means she's about to meet three new step-brothers. The eldest of the three is Tyler Bruce, a troubled teenager with a short temper and a huge ego. Complete polar opposites, Eden quickly finds herself thrust into a world full of new experiences as Tyler's group of friends take her under their wing. But the one thing she just can't understand is Tyler, and the more she presses to figure out the truth about him, the more she finds herself falling for the one person she shouldn't – her step-brother.
Throw in Tyler's clingy girlfriend and a guy who has his eyes set on Eden, and there's secrets, lies and a whole lot of drama. But how can Eden keep her feelings under control? And can she ever work out the truth about Tyler?
Did I Mention I Love You is the first book in the phenomenal DIMILY trilogy, following the lives of Eden Munro and Tyler Bruce as they try to find their way in an increasingly confusing world.
Hey! I'm Estelle Maskame and I write the DIMILY trilogy! I'm a total bookworm and YA addict, not to mention a hopeless romantic. I've always adored books and writing while growing up, and all throughout primary school I loved to write stories about talking dolphins and pirate ships. Admittedly, I've moved away from the eight-year-old fantasy genre and now focus on writing YA romance.
I grew up in a small town called Peterhead in the North-east of Scotland, and I belong to a huge fishing family! My favourite things include books, hot chocolate (with cream and marshmallows, of course), road trips, new clothes, my best friends, and chicken nuggets. On another note, I absolutely hate terrible drivers, snow, the dentist, and people who wake me up before 10AM.
Ok so the theme of this one
is Toxic Relationships. And

Trust me people, toxic relationships are just that TOXIC! This story tries to glorify this. This one I just couldn't love or really get into. Shortly after starting I just had to put it down.
Go Into This One Knowing
Toxic!
"All opinions are 100% honest and my own."
Disclaimer: Thanks to Goodreads and Amazon for the book cover, about the book, and author information. Buying via these above links allows my site to get a % of the sale at no cost to you. This money gets used to buy items for giveaways. In accordance with FTC guidelines regarding endorsements and testimonials for bloggers, I would like my readers to know that many of the books I review are provided to me for free by the publisher or author of the book in exchange for an honest review. I am in no way compensated for any reviews on this site. All donations are to help keep this site running via costs from shipping, .com charges, and other giveaways.
https://www.facebook.com/CrossroadReview