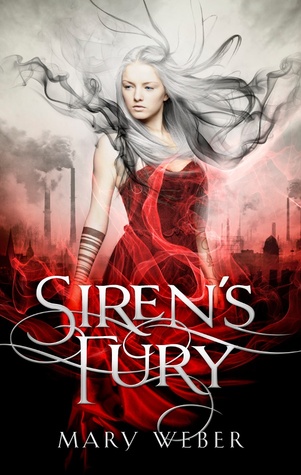 Genres: Fantasy
Pages: 352
Source: Purchased
Add it to Goodreads
"I thrust my hand toward the sky as my voice begs the Elemental inside me to waken and rise. But it's no use. The curse I've spent my entire life abhorring—the thing I trained so hard to control—no longer exists."
Nym has saved Faelen only to discover that Draewulf stole everything she valued. Now he's destroyed her Elemental storm-summoning ability as well.
When Nym sneaks off with a host of delegates to Bron, Lord Myles offers her the chance for a new kind of power and the whispered hope that it may do more than simply defeat the monster she loathes. But the secrets the Bron people have kept concealed, along with the horrors Draewulf has developed, may require more than simply harnessing a darker ability.
They may require who she is.
Set against the stark metallic backdrop of the Bron kingdom, Nym is faced with the chance to change the future.
Or was that Draewulf's plan for her all along?
Mary Weber is a ridiculously uncoordinated girl plotting to take over make-believe worlds through books, handstands, and imaginary throwing knives. In her spare time, she feeds unicorns, sings 80's hairband songs to her three muggle children, and ogles her husband who looks strikingly like Wolverine. They live in California, which is perfect for stalking L.A. bands, Joss Whedon, and the ocean.
She gets nerdy @
maryweber
.
com
, FACEBOOK @ marychristineweber, TWITTER @mchristineweber, and GOODREADS. Come say hi!!
The first time around reading this book it wasn't my favorite but this time I really loved it. Im not sure why I didn't really like it the other time (who knows).
This one has a lot of suspense. As

Draewulf slowly drains Nym's man. She tries to find a way to release him before he is killed. Then she looses her powers only to gain new dark ones. The same ones that turned

Draewulf into what he is. This book is filled with a ton of twists and turns that will put you on your head. And well an ending that although it doesn't have a cliffhanger like the first one. Does have a realization and a surprise like no other! (yes Mary I hate you but in a good way lol)
This one there isn't as much romance. And I can't go into to it very much without giving a lot away. So this one was skin spliting good. And I really can't wait for the next one. Which as I'm writing this I am currently on page 60!
No cliffhanger like the last one. But the ending will knock your socks off!
HAVE TISSUES!!!! #FEELS
"All opinions are 100% honest and my own."
a Rafflecopter giveaway
Disclaimer: Thanks to Goodreads and Amazon for the book cover, about the book, and author information. Buying via these above links allows my site to get a % of the sale at no cost to you. This money gets used to buy items for giveaways. In accordance with FTC guidelines regarding endorsements and testimonials for bloggers, I would like my readers to know that many of the books I review are provided to me for free by the publisher or author of the book in exchange for an honest review. I am in no way compensated for any reviews on this site. All donations are to help keep this site running via costs from shipping, .com charges, and other giveaways.
https://www.facebook.com/CrossroadReview