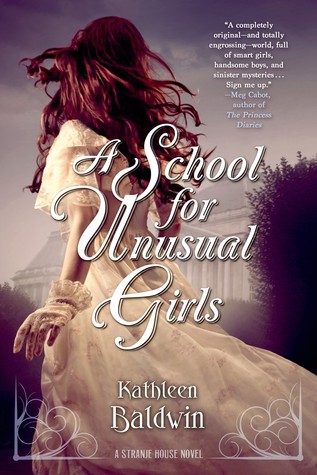 A School for Unusual Girls (Stranje House #1)
Add it to Goodreads
A School for Unusual Girls
is the first installment in the Stranje House series for young adults by award-winning author Kathleen Baldwin.
It's 1814. Napoleon is exiled on Elba. Europe is in shambles. Britain is at war on four fronts. And Stranje House, a School for Unusual Girls, has become one of Regency England's dark little secrets. The daughters of the
beau monde
who don't fit high society's constrictive mold are banished to Stranje House to be reformed into marriageable young ladies. Or so their parents think. In truth, Headmistress Emma Stranje, the original unusual girl, has plans for the young ladies—plans that entangle the girls in the dangerous world of spies, diplomacy, and war.
After accidentally setting her father's stables on fire while performing a scientific experiment, Miss Georgiana Fitzwilliam is sent to Stranje House. But Georgie has no intention of being turned into a simpering, pudding-headed, marriageable miss. She plans to escape as soon as possible—until she meets Lord Sebastian Wyatt. Thrust together in a desperate mission to invent a new invisible ink for the English war effort, Georgie and Sebastian must find a way to work together without losing their heads—or their hearts . . .
"I love adventure in books and in real life. I've roamed the Rocky Mountains, wandered the desert, enjoyed way too many classes in college, was stalked by a mountain lion, lost an argument with a rattlesnake, fell in love at least a dozen times, finally met and married my very own hero, and together we've raised four free-spirited children."
Award-winning author - Kensington published four of Kathleen's Regency romantic comedies, including MISTAKEN KISS, a Holt Medallion finalist. DIARY OF A TEENAGE FAIRY GODMOTHER, was a Golden Quill finalist. Her new Historical YA series with TorTeen, A SCHOOL FOR UNUSUAL GIRLS, is a Junior Library Guild Selection and won a Marlene.
News and more at: www.Kathleenbaldwin.com
This is the second time ive read this book. This time though it was a finished copy signed by the author and well its mine! Which makes it so much better lol. I am still so addicted to this book. I read it again in one day I just couldn't put it down.
The setting of this one is the historical events of 1814 along with Napoleon etc going on. It centers around Georgie trying to create an invisible ink that they can use to send messages. Since the codes that they used have been found out and this has killed her brother. But after one experiment burns down her fathers barn she is sent off to be rid of at Stranje House where she finds so much more than just a school.
I really loved how the mystery of Stranje House is unfolded. You don't get all of the information at once. This one is all in the POV of Georgie and that was just fine. Book two is in the POV of another girl Tess and of all the people that the author could have chosen I liked this one the best! I love Tess so I'm happy to read in her POV. I still wish that this book would have ended on a better note. It did end well with only a slight cliffhanger. But Geogie and Sebastian's future is not set in stone and I so hope we get more of them and their relationship in book two.
The plot in this story was fabulous. I LOVED the hint of paranormal in this one. It worked so seamlessly! That if this would have really happened I wouldn't be surprised.
The characters each had their own voices and I have to say that I wouldn't mind one book in each characters POV. And then maybe a last novel that goes through all of them. lol. If you can't tell I'm hooked! This book has it all. Mystery, twists, turns, murder, a slight paranormal feel, romance, etc.
Book in a Pinch
Breathtaking Historical with Etiquette, Espionage, a little Romance and a hint of paranormal
Go Into This One Knowing
No love triangle, slight cliffhanger, Hint of paranormal
"All opinions are 100% honest and my own."
a Rafflecopter giveaway
Disclaimer: Thanks to Goodreads and Amazon for the book cover, about the book, and author information. Buying via these above links allows my site to get a % of the sale at no cost to you. This money gets used to buy items for giveaways. In accordance with FTC guidelines regarding endorsements and testimonials for bloggers, I would like my readers to know that many of the books I review are provided to me for free by the publisher or author of the book in exchange for an honest review. I am in no way compensated for any reviews on this site. All donations are to help keep this site running via costs from shipping, .com charges, and other giveaways.
https://www.facebook.com/CrossroadReview