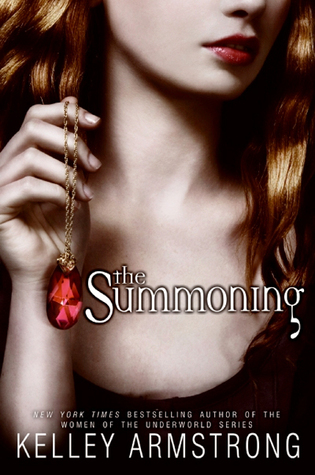 The Summoning (Darkest Powers #1) by Kelley Armstrong
Add it to Goodreads
My name is Chloe Saunders and my life will never be the same again.
All I wanted was to make friends, meet boys, and keep on being ordinary. I don't even know what that means anymore. It all started on the day that I saw my first ghost - and the ghost saw me.
Now there are ghosts everywhere and they won't leave me alone. To top it all off, I somehow got myself locked up in Lyle House, a "special home" for troubled teens. Yet the home isn't what it seems. Don't tell anyone, but I think there might be more to my housemates than meets the eye. The question is, whose side are they on? It's up to me to figure out the dangerous secrets behind Lyle House... before its skeletons come back to haunt me.
When librarians finally granted Kelley Armstrong an adult card, she made straight for the epic fantasy and horror shelves. She spent the rest of her childhood and teen years happily roaming fantastical and terrible worlds, and vowed that someday she'd write a story combining swords, sorcery, and the ravenous undead. That story began with the New York Times bestselling Sea of Shadows and continues with Empire of Night.
Armstrong's first works for teens were the New York Times bestselling Darkest Powers and Darkness Rising trilogies. She lives in rural Ontario with her husband, three children, and far too many pets.
Well I think that Kelly Armstrong is going to be another author that I just don't care for which sucks!! I had this book signed by the author last year and well it finally got chosen via my Facebook page giveaway to keep calm and pick a number. And well I didnt even make it to 100 pages.
The first 80 or so pages start out very well ghosts, the girl getting out into a group home where she is told she has a mental illness that is making her see things. Well after that the ghosts disappear for the most part and the focus turns to the group home. Which then turns the story boring and bogs it down the story to a snails pace. (which was my issue with this authors other series)
I wish this would have stuck with just the ghosts and paranormal aspect vs. the group home.
If your reading this review comment below if you love this author! Ill get back with you and send you some signed swag!
"All opinions are 100% honest and my own."
Disclaimer: Thanks to Goodreads and Amazon for the book cover, about the book, and author information. Buying via these above links allows my site to get a % of the sale at no cost to you. This money gets used to buy items for giveaways. In accordance with FTC guidelines regarding endorsements and testimonials for bloggers, I would like my readers to know that many of the books I review are provided to me for free by the publisher or author of the book in exchange for an honest review. I am in no way compensated for any reviews on this site. All donations are to help keep this site running via costs from shipping, .com charges, and other giveaways.
https://www.facebook.com/CrossroadReview