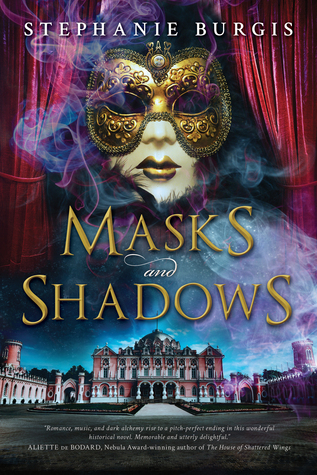 Masks and Shadows by Stephanie Burgis
The year is 1779, and Carlo Morelli, the most renowned castrato singer in Europe, has been invited as an honored guest to Eszterháza Palace. With Carlo in Prince Nikolaus Esterházy's carriage, ride a Prussian spy and one of the most notorious alchemists in the Habsburg Empire. Already at Eszterháza is Charlotte von Steinbeck, the very proper sister of Prince Nikolaus's mistress. Charlotte has retreated to the countryside to mourn her husband's death. Now, she must overcome the ingrained rules of her society in order to uncover the dangerous secrets lurking within the palace's golden walls. Music, magic, and blackmail mingle in a plot to assassinate the Habsburg Emperor and Empress--a plot that can only be stopped if Carlo and Charlotte can see through the masks worn by everyone they meet.
Stephanie Burgis
was born in Michigan, but now lives in Wales with her husband, writer Patrick Samphire, and their children. Before becoming a fulltime writer, she studied music history as a Fulbright Scholar in Vienna, Austria, and worked as a website editor for a British opera company. She has published over thirty short stories for adults.
Kat, Incorrigible
(US)/
A Most Improper Magick
(UK) won the Waverton Good Read Children's Award in 2011 for Best Début Children's Novel by a British writer. It was followed by
Renegade Magic
/
A Tangle of Magicks
and
Stolen Magic
/
A Reckless Magick
.
This is a
wonderful historical with a hint of magic. Its def. one for the lover of historical/classics. If you love dramatic love affairs, mystery secret societies, and amazing lavish descriptions then this book is so for you. If none of those sound like your cup of tea then I would pass this one by even if it does have an amazing cover.
For those who are looking for a historical with correct depictions you will be happy to know that this book is set in a real life estate. The author does a wonderful job with showing us the past. This one also has tons of different POV thought the book. Yet even with all of the narrators the author does a wonderful job weaving them all effortlessly.
As a whole this is a pretty fast paced book with an interesting story.
"All opinions are 100% honest and my own."
Disclaimer: Thanks to Goodreads and Amazon for the book cover, about the book, and author information. Buying via these above links allows my site to get a % of the sale at no cost to you. This money gets used to buy items for giveaways. In accordance with FTC guidelines regarding endorsements and testimonials for bloggers, I would like my readers to know that many of the books I review are provided to me for free by the publisher or author of the book in exchange for an honest review. I am in no way compensated for any reviews on this site. All donations are to help keep this site running via costs from shipping, .com charges, and other giveaways.
Comments are DELICIOUS! and now that were using this new format for comments the TOP 3 Commenters will all win bookish goodies each month! So that is just one more reason to comment! This is open to everyone! So get commenting!
Don't forget to check out our Facebook, Twitter, Instagram, and Pinterest!
@CrossroadReview