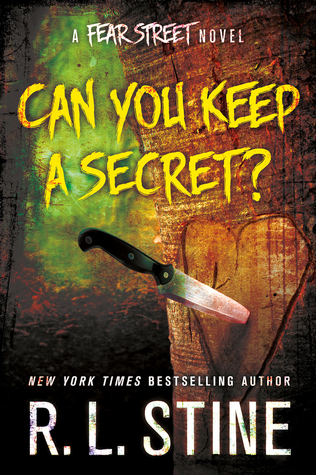 R.L. Stine has built his legacy on scaring children and teenagers. Now he's back with another spine-tingling tale of horror in this new Fear Street book about temptation, betrayal, and fear.
Eddie and Emma are high school sweethearts from the wrong side of the tracks. Looking for an escape their dreary lives, they embark on an overnight camping trip in the Fear Street Woods with four friends. As Eddie is carving a heart into a tree, he and Emma discover a bag hidden in the trunk. A bag filled with hundred-dollar bills. Thousands of them. Should they take it? Should they leave the money there? The six teens agree to leave the bag where it is until it's safe to use it. But when tragedy strikes Emma's family, the temptation to skim some money off of the top becomes impossible to fight. There's only one problem. When Emma returns to the woods, the bag of money is gone, and with it, the trust of six friends with a big secret.
Packed with tension and sure to illicit shivers in its readers, this new Fear Street book is another terrifying tale from a master of horror.
Robert Lawrence Stine known as R. L. Stine and
Jovial Bob Stine
, is an American novelist and writer, well known for targeting younger audiences. Stine, who is often called the Stephen King of children's literature, is the author of dozens of popular horror fiction novellas, including the books in the Goosebumps, Rotten School, Mostly Ghostly, The Nightmare Room and Fear Street series.
R. L. Stine began his writing career when he was nine years old, and today he has achieved the position of the bestselling children's author in history. In the early 1990s, Stine was catapulted to fame when he wrote the unprecedented, bestselling Goosebumps® series, which sold more than 250 million copies and became a worldwide multimedia phenomenon. His other major series, Fear Street, has over 80 million copies sold.
Stine has received numerous awards of recognition, including several Nickelodeon Kids' Choice Awards and Disney Adventures Kids' Choice Awards, and he has been selected by kids as one of their favorite authors in the NEA's Read Across America program. He lives in New York, NY.
I LOVE R.L. Stine. I grew up reading and watching Goosebumps. I literally lived and breathed it as a kid. So getting to read a new series by him was so exciting!! All I have to say is OMG. This series is sooooo good. R.L. Stine really knows how to leave you on the edge of your seat and scare the pants off of you. I love it!!
"All opinions are 100% honest and my own."
Disclaimer: Thanks to Goodreads and Amazon for the book cover, about the book, and author information. Buying via these above links allows my site to get a % of the sale at no cost to you. This money gets used to buy items for giveaways. In accordance with FTC guidelines regarding endorsements and testimonials for bloggers, I would like my readers to know that many of the books I review are provided to me for free by the publisher or author of the book in exchange for an honest review. I am in no way compensated for any reviews on this site. All donations are to help keep this site running via costs from shipping, .com charges, and other giveaways.
Comments are DELICIOUS! and now that were using this new format for comments the TOP 3 Commenters will all win bookish goodies each month! So that is just one more reason to comment! This is open to everyone! So get commenting!
Don't forget to check out our Facebook, Twitter, Instagram, and Pinterest!
@CrossroadReview