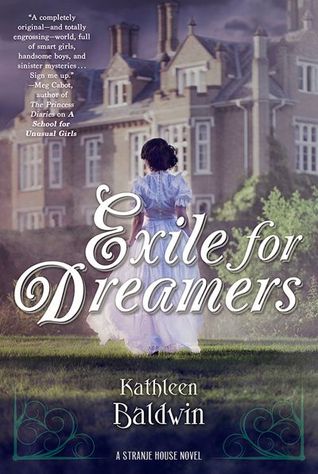 Exile for Dreamers
(Stranje House, #2)
by @katbaldwin
Add it to Goodreads
A School for Unusual Girls
is the first captivating installment in the Stranje House series for young adults by award-winning author Kathleen Baldwin. #1
New York Times
bestselling author Meg Cabot calls this romantic Regency adventure "completely original and totally engrossing."
Tess can't run far enough or fast enough to escape the prophetic dreams that haunt her. Dreams bring nothing but death and grief, and Tess refuses to accept that she may be destined for the same madness that destroyed her mother. Until her disturbing dreams become the only means of saving Lord Ravencross, the man she loves, and her friends at Stranje House from Lady Daneska and her lover, the Ghost-agent of Napoleon, who has escaped from Elba. Can the young ladies of Stranje House prevail once more? Or is England destined to fall into the hands of the power-mad dictator?
"I love adventure in books and in real life. I've roamed the Rocky Mountains, wandered the desert, enjoyed way too many classes in college, was stalked by a mountain lion, lost an argument with a rattlesnake, fell in love at least a dozen times, finally met and married my very own hero, and together we've raised four free-spirited children."
Award-winning author - Kensington published four of Kathleen's Regency romantic comedies, including MISTAKEN KISS, a Holt Medallion finalist. DIARY OF A TEENAGE FAIRY GODMOTHER, was a Golden Quill finalist. Her new Historical YA series with TorTeen, A SCHOOL FOR UNUSUAL GIRLS, is a Junior Library Guild Selection and won a Marlene.
News and more at: www.Kathleenbaldwin.com
Although I do miss
Georgie's
POV I have to say that I did enjoy Tess's. I really love how the author sets up the next book by introducing us to the new romance. Its PERFECT I really can't wait to be in Jane's POV! With her witty comebacks I'm sure its going to be a hoot!
This one is on par with book one with a wonderful blend of history, romance, danger, and just a hint of paranormal. The story continues effortlessly from book one which I applaud the author for doing so well. Changing the POV from book one to book two but continuing on with the same story is not an easy job but the author did a flawless job at it!
Ok this is a note to the author! I want a prequel!!! I want to know about Ms. Stranje and Madame Cho!!! NEED TO KNOW!!
The ending of this one was so much better than book one. I am just so amazed on how the ending wraps up with this character's pov but leaves the story open for the next one.
Favorite Quote:
"You can't truly believe your scars bother me. How can you? When, God help me, I yearn to trace each and every one with my lips."
Well well little Tess she's a sexy beast LOL.
Book in a Pinch
Historical Masterpiece with Romance, Danger, a hint of Paranormal that tells the boys that its time to let the girls save the day!
Go Into This One Knowing
Ending will make you cry! Happy tears!
"All opinions are 100% honest and my own."
a Rafflecopter giveaway
Disclaimer: Thanks to Goodreads and Amazon for the book cover, about the book, and author information. Buying via these above links allows my site to get a % of the sale at no cost to you. This money gets used to buy items for giveaways. In accordance with FTC guidelines regarding endorsements and testimonials for bloggers, I would like my readers to know that many of the books I review are provided to me for free by the publisher or author of the book in exchange for an honest review. I am in no way compensated for any reviews on this site. All donations are to help keep this site running via costs from shipping, .com charges, and other giveaways.
https://www.facebook.com/CrossroadReview