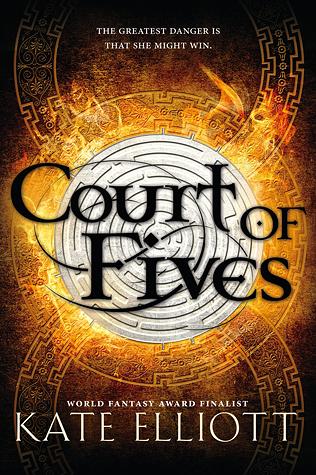 On the Fives court, everyone is equal.

And everyone is dangerous.
Jessamy's life is a balance between acting like an upper-class Patron and dreaming of the freedom of the Commoners. But away from her family, she can be whomever she wants when she sneaks out to train for the Fives, an intricate, multilevel athletic competition that offers a chance for glory to the kingdom's best competitors.
Then Jes meets Kalliarkos, and an improbable friendship between the two Fives competitors—one of mixed race and the other a Patron boy—causes heads to turn. When Kal's powerful, scheming uncle tears Jes's family apart, she'll have to test her new friend's loyalty and risk the vengeance of a royal clan to save her mother and sisters from certain death.
In this imaginative escape into an enthralling new world, World Fantasy Award finalist Kate Elliott's first young adult novel weaves an epic story of a girl struggling to do what she loves in a society suffocated by rules of class and privilege.
Kate Elliott is the author of more than twenty novels, including the Spiritwalker trilogy, the Novels of the Jaran, and the Crossroads trilogy.
King's Dragon
, the first novel in the Crown of Stars series, was a Nebula Award finalist, and
The Golden Key
(with Melanie Rawn and Jennifer Roberson) was a World Fantasy Award finalist. Kate was born in Iowa, raised in Oregon, and now lives in Hawaii. She invites you to visit her website at kateelliott.com or follow her on Twitter @KateElliottSFF.
What can I say about this book? Parts of it had me slightly confused but I think that had to deal more with the whole BEA trip than it did the book. I wasn't lost or anything to bad. So it's fine.
The main character Jes I really liked. The back of the book says she will remind you of Katniss but I think she is more like A blend of Tris and Katniss. She is head strong and will do anything to save her family. But she also knows when a boy likes her etc.
As for the love interest I almost wish we would have had alternating chapters for POV. but I'll live with what we got!
And as for her sisters and mother. I hope we get more of them in book two.
The world that the author has created is both breathtaking, mysterious and horrible!! Some of their religious practices are very archaic to say the least.
This is not a book for the weak of heart as it deals with some gruesome things. (You have been warned!) but the story of a girl who just wants to be free to live her own life is one true to their time and world. I really loved watching Jes deal with the situations presented to her as I followed her on her journey.
For the story it's a wonderful blend of fantasy slight feel of dystopian and a hint of magic! There are some creatures that remind me of the greevers from the maze runner series. As well as an obstacle course that is kinda like the hunger games but not exactly.
So if your looking for a fast paced story that will keep you guessing and that is full of surprises def. check this one out!

PS according to amazon.com which it seems that is where I got the book. This one has only been laying around since Oct. of last year!! So thats not to bad.


Book in a Pinch
Stakes are high in this fast paced game of skills and daring. Where one girl will try and save her family as well as rising to be the hero that her world needs.
Go Into This One Knowing
No love triangle, no insta love, For ages 16 and up.
"All opinions are 100% honest and my own."
a Rafflecopter giveaway
Disclaimer: Thanks to Goodreads and Amazon for the book cover, about the book, and author information. Buying via these above links allows my site to get a % of the sale at no cost to you. This money gets used to buy items for giveaways. In accordance with FTC guidelines regarding endorsements and testimonials for bloggers, I would like my readers to know that many of the books I review are provided to me for free by the publisher or author of the book in exchange for an honest review. I am in no way compensated for any reviews on this site. All donations are to help keep this site running via costs from shipping, .com charges, and other giveaways.
Comments are DELICIOUS! and now that were using this new format for comments the TOP 3 Commenters will all win bookish goodies each month! So that is just one more reason to comment! This is open to everyone! So get commenting!
Don't forget to check out our Facebook, Twitter, Instagram, and Pinterest!
@CrossroadReview