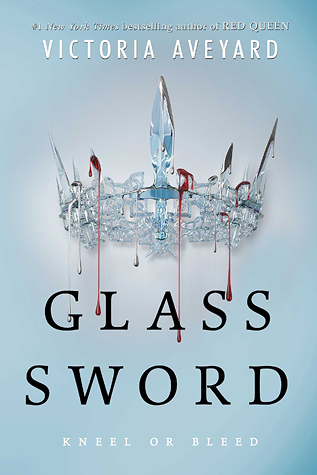 If there's one thing Mare Barrow knows, it's that she's different.

Mare Barrow's blood is red—the color of common folk—but her Silver ability, the power to control lightning, has turned her into a weapon that the royal court tries to control.

The crown calls her an impossibility, a fake, but as she makes her escape from Maven, the prince—the friend—who betrayed her, Mare uncovers something startling: she is not the only one of her kind.

Pursued by Maven, now a vindictive king, Mare sets out to find and recruit other Red-and-Silver fighters to join in the struggle against her oppressors.

But Mare finds herself on a deadly path, at risk of becoming exactly the kind of monster she is trying to defeat.

Will she shatter under the weight of the lives that are the cost of rebellion? Or have treachery and betrayal hardened her forever?

The electrifying next installment in the Red Queen series escalates the struggle between the growing rebel army and the blood-segregated world they've always known—and pits Mare against the darkness that has grown in her soul.
Victoria Aveyard was born and raised in East Longmeadow, Massachusetts, a small town known only for the worst traffic rotary in the continental United States. She moved to Los Angeles to earn a BFA in screenwriting at the University of Southern California. She currently splits her time between the East and West coasts. As an author and screenwriter, she uses her career as an excuse to read too many books and watch too many movies. You can visit her online at www.victoriaaveyard.com.
I need to take a breather after the ending of this book. The first half was mostly just them running around from town to town trying not to get caught as they picked up people that are now being called newbloods. The last half of the book was an explosion of the best kind!! Death happiness and one killer ending await those who wish to dive into the pages hat are glass sword. This one will leave in a giant ass book hole from where there is no escape. You will kneel to the awesomeness that Aveyard has brought us and will be counting down the days for the next book.
That's pretty much how I feel. This one we see our beloved character grow into the adults they will be. If they live long enough to get there. We see happiness and sadness and we loose one character that so made me break down into tears. Like really I put the book down and went and ate lunch. I just couldn't go on.
This one has so much entwined in the story that just made it so breathtaking! I fear for mare and cal and their love story. I worry that one of them is going to die or that they are just going to piss each other off and neither of them is going to be able to forgive the other.
This review is just so hard to write there's so much I want to say but I don't want to give anything away!!! It's so HARD!!!!!!
The ending will have you in tears and saying WTF!?!?!? I know I was doing that!! And this is one story that has no real middle book syndrome it's a great continuation and I can't wait for the next one.
"All opinions are 100% honest and my own."
Disclaimer: Thanks to Goodreads and Amazon for the book cover, about the book, and author information. Buying via these above links allows my site to get a % of the sale at no cost to you. This money gets used to buy items for giveaways. In accordance with FTC guidelines regarding endorsements and testimonials for bloggers, I would like my readers to know that many of the books I review are provided to me for free by the publisher or author of the book in exchange for an honest review. I am in no way compensated for any reviews on this site. All donations are to help keep this site running via costs from shipping, .com charges, and other giveaways.
Comments are DELICIOUS! and now that were using this new format for comments the TOP 3 Commenters will all win bookish goodies each month! So that is just one more reason to comment! This is open to everyone! So get commenting!
Don't forget to check out our Facebook, Twitter, Instagram, and Pinterest!
@CrossroadReview