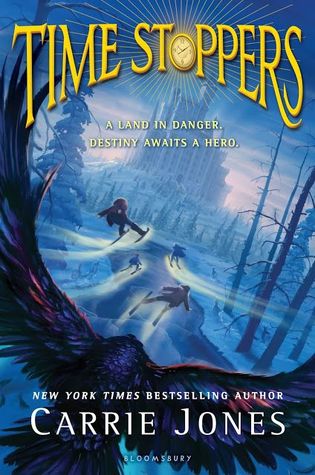 Annie Nobody thought she was, well, nobody, living in a nowhere town where nothing goes her way. Day 1 at her newest foster home proves to be dreadful, too... and things get even worse when she's chased by something big and scary that definitely wants to eat her.
Luckily for Annie, not everything is what it seems, and she gets swept up-literally-by a sassy dwarf on a hovercraft snowmobile and taken to Aurora, a hidden, magical town on the coast of Maine. There, she finds a new best friend in Jamie Hephastion Alexander--who thought he was a normal kid (but just might be a troll)-and Annie discovers that she's not exactly who she thought she was, either. She's a Time Stopper, meant to protect the enchanted.
Together, Annie and Jamie discover a whole new world of magic, power, and an incredible cast of creatures and characters. But where there's great power, there are also those who want to misuse it, and Aurora is under siege. It's up to the kids to protect their new home, even if it means diving headfirst into magical danger.
Carrie Jones likes Skinny Cow fudgsicles and potatoes. She does not know how to spell fudgsicles. This has not prevented her from writing books. She lives with her cute family in Maine, but she grew up in Bedford, NH where she once had a séance with cool uber-comedian Sarah Silverman.
The Meyers brothers are from Bedford, too, so you'd think it would make Carrie funnier, coming from Bedford N.H. Obviously, something didn't work.
Carrie has a large, skinny white dog and a fat cat. Both like fudgicles. Only the cat likes potatoes. This may be a reason for the kitty's weight problem (Shh… don't tell). Carrie has always liked cowboy hats but has never owned one. This is a very wrong thing. She graduated from Vermont College's MFA program for writing. She has edited newspapers and poetry journals and has recently won awards from the Maine Press Association and also been awarded the Martin Dibner Fellowship as well as a Maine Literary Award.
Here's the lowdown about Carrie…
1. Carrie can not drink coffee. It makes her insane. Do not give her caffeine.
2. Carrie is very responsive to loving strokes on the hair, kind of like a puppy. However, do not do this without asking first unless you are a ridiculously handsome man or an editor who is about to offer her a trillion dollars for the first draft of her novel.
3. Carrie is secretly really, really shy even though she's pathetically outgoing in person. She has a very hard time calling people. So, if you want to talk to her, make the first move. And, if you're her in-Maine female best friend, Jennifer, do NOT get mad at her because she is so bad at returning emails.
4. Carrie sometimes wears mismatched socks, if you do not think this is cool, do not tell her. You will hurt her feelings.
5. Carrie really, really wants you to like her books. Please like her books. PLEEEAASSSEEEE. She'll be your best friend forever. That is, if you want a friend who is shy about calling and emailing and who wears mismatched socks and can't drink caffeine and likes being pet on the head. Hhmmm….
6. Carrie is not above begging.
7. Carrie, like Belle in TIPS ON HAVING A GAY (ex) BOYFRIEND drinks Postum. It's for the same reason, too.
8. Carrie loves Great Pyrenees dogs. They are huge and white, and furry and it looks like they have white eyeliner and mascara on, which is way too cute. Do you have one? Send a picture!
9. Carrie lives in Maine. She has a hard time with this in the winter. It is bleak in Maine in the winter. Imagine everything shades of gray and brown and no green anywhere except for in people's noses. This is Maine in Winter. Maine in summer is the best place in the world, so it's a trade-off. Feel free to invite Carrie to your house in the winter, but not if it's in Greenland, Canada, or anywhere north of Florida.
10. Forget that. She'd still probably come.
This was a fun read. I had the best time reading it. I was laughing way too hard most of the time. I lovelovelove Annie, Jamie, Eva, and Bloom!! They had some awesome heroic moments and some problems but that's what made them great. I totally enjoyed this book!
"All opinions are 100% honest and my own."
a Rafflecopter giveaway
Disclaimer: Thanks to Goodreads and Amazon for the book cover, about the book, and author information. Buying via these above links allows my site to get a % of the sale at no cost to you. This money gets used to buy items for giveaways. In accordance with FTC guidelines regarding endorsements and testimonials for bloggers, I would like my readers to know that many of the books I review are provided to me for free by the publisher or author of the book in exchange for an honest review. I am in no way compensated for any reviews on this site. All donations are to help keep this site running via costs from shipping, .com charges, and other giveaways.
Comments are DELICIOUS! and now that were using this new format for comments the TOP 3 Commenters will all win bookish goodies each month! So that is just one more reason to comment! This is open to everyone! So get commenting!
Don't forget to check out our Facebook, Twitter, Instagram, and Pinterest!
@CrossroadReview