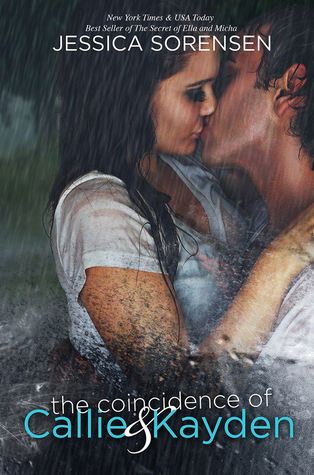 From the bestselling author of The Secret of Ella and Michacomes a mesmerizing novel of fate, friendship, and the healing power of love . . .

THE COINCIDENCE OF CALLIE
&
KAYDEN
For Kayden, suffering in silence was the only way to survive. If he was lucky, he could keep his head down, do as he was told, and make it through the day. But one night it seemed like his luck -- and his life -- might finally end... until an angel named Callie appeared just in time to rescue him.
Callie has never believed in luck. Not since her twelfth birthday when everything was taken from her. After the worst was over, she locked up her feelings and vowed never to tell anyone what happened. Now, six years later, she continues to struggle with the painful secret that threatens to consume her.
When fate lands Kayden and Callie at the same college, Kayden is determined to get to know the beautiful girl who changed his destiny. Quiet and reserved, Callie still fears letting anyone else into her world. But Kayden is certain that Callie has come back into his life for a reason. And the more he tries to be a part of her life, the more he realizes that, this time, it's Callie who needs to be saved...
The
New York Times
and
USA Today
bestselling author, Jessica Sorensen, lives with her husband and three kids. When she's not writing, she spends her time reading and hanging out with her family.
It was a coincidence that I found this book. Or maybe I should say that this book found me. It was sitting in the YA section of the used bookstore where of course it wasnt supposed to be. The premise and cover grabbed me so I had to just grab it! And well I've fallen in love with Jessica's writing!
Blown away! I was so blown away by this book!! The characters the challenges it was breathtaking! I knew something was up right off the bat just by how Callie was acting. This book deals with some major issues. Of rape and child beatings. So be warned! As for the two MCs sexy doesn't even come to the front of this book. This book is about two people who have been deeply hurt. One by family and one by a friend. And you read this wondering if each one is ever going to get past it. I do have to say though the ending was just wow.
As for the content of this book I want to leave a note here. If you have been abused sexual, physically or even mental you should tell!! If you've been raped don't change or clean. Call 911 and let them know what happened! This way they can get the bastard that hurt you!! Rape is NEVER OK!
As for being beaten talk to your school counselor if you don't feel comfortable talking with your parents. Esp if they are the ones beating you.
And above all FIGHT BACK! It's ok to bite hit kick and scream. Be you a boy or a girl. Do whatever you have to to get them off of you and away!
"All opinions are 100% honest and my own."
Disclaimer: Thanks to Goodreads and Amazon for the book cover, about the book, and author information. Buying via these above links allows my site to get a % of the sale at no cost to you. This money gets used to buy items for giveaways. In accordance with FTC guidelines regarding endorsements and testimonials for bloggers, I would like my readers to know that many of the books I review are provided to me for free by the publisher or author of the book in exchange for an honest review. I am in no way compensated for any reviews on this site. All donations are to help keep this site running via costs from shipping, .com charges, and other giveaways.
Comments are DELICIOUS! and now that were using this new format for comments the TOP 3 Commenters will all win bookish goodies each month! So that is just one more reason to comment! This is open to everyone! So get commenting!
Don't forget to check out our Facebook, Twitter, Instagram, and Pinterest!
@CrossroadReview