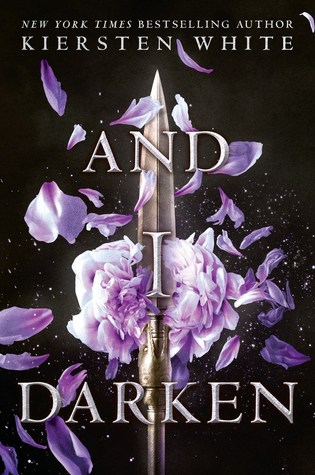 NO ONE EXPECTS A PRINCESS TO BE BRUTAL.
And Lada Dragwlya likes it that way. Ever since she and her gentle younger brother, Radu, were wrenched from their homeland of Wallachia and abandoned by their father to be raised in the Ottoman courts, Lada has known that being ruthless is the key to survival. She and Radu are doomed to act as pawns in a vicious game, an unseen sword hovering over their every move. For the lineage that makes them special also makes them targets.
Lada despises the Ottomans and bides her time, planning her vengeance for the day when she can return to Wallachia and claim her birthright. Radu longs only for a place where he feels safe. And when they meet Mehmed, the defiant and lonely son of the sultan, who's expected to rule a nation, Radu feels that he's made a true friend—and Lada wonders if she's finally found someone worthy of her passion.
But Mehmed is heir to the very empire that Lada has sworn to fight against—and that Radu now considers home. Together, Lada, Radu, and Mehmed form a toxic triangle that strains the bonds of love and loyalty to the breaking point.
Kiersten White is the New York Times bestselling author of the Paranormalcy trilogy, the Mind Games series, The Chaos of Stars, Illusions of Fate, In the Shadows with artist Jim Di Bartolo, and the upcoming And I Darken. Kiersten lives with her family in San Diego, California. Visit her at www.kierstenwhite.com.
When I saw that this book was on the #FirstInLine list I was like OK we have to get this!! Mow people down if we have to!! (JK sort of)
Ok so we wouldn't have mowed people down but it was pretty close!
This one was beyond words one of my fav books via White.
Shortly into this book I was like THIS IS MESSED UP!!!!!!!! But its messed up in the best way possible!! This is a very gruesome book that deals with everything that a child and teen would have had to deal with. This is NOT for the faint of heart and well I almost put it down twice. Im glad that I picked it back up to! This is one of the very few ARCs I will be keeping so I'm glad I have an extra copy.
This has to be the darkest book I've read EVER!! This book is not really a fantasy but more a historical retelling. Its the story if Vlad would have been a girl vs a boy and well this story is well beyond words! As a whole it was terrifying, passionate, and what a story really should be!
The story flowed so well. I was never lost with what was going on. The story was alive and I so can't wait for the next book! I was kinda of turned off that the story goes over so many years. When it starts out were at Lada's birth and when it ends she is around 16. So yes this book spans all that time!
As for the characters OMG BLOWN AWAY!!!!
Lada was such a terrifying, creepy, crazy character!!! She didn't take anyones crap. She is a girl but unlike most stories this girl isn't going to sit around and wait to be married off. She is NOT PLAYNG THAT GAME! And if you think she is well then your going to end up dead. Or wishing you were dead. The best thing about this book which I think I pretty much fell in love with after I finished. Is that with the 16 years this book spans. You really do see how Lada grows over the corse of that time.
One of the best things she says is the following.
"On our wedding night," she said, "I will cut out your tongue and swallow it. Then both tongues that spoke our marriage vows will belong to me, and I will be wed only to myself. You will most likely choke to death on your own blood, which will be unfortunate, but I will be both husband and wife and therefore not a widow to be pitied."
The rest of the cast was also amazing. Her brother although shy and weak finds his own power and brings a lot to the story. Other people in this story were so great. I can't really pick someone out without giving something away but just know that you won't be disappointed!
There is just so much I want to talk about in this book. Its a slow burn that will keep you reading well into the night. Its the MUST read of 2016!
Book in a Pinch
Beyond words. The story is passion, terrifying, and what a story should be!
Go Into This One Knowing
No love triangle, coming of Age, Gruesome
"All opinions are 100% honest and my own."
a Rafflecopter giveaway
Disclaimer: Thanks to Goodreads and Amazon for the book cover, about the book, and author information. Buying via these above links allows my site to get a % of the sale at no cost to you. This money gets used to buy items for giveaways. In accordance with FTC guidelines regarding endorsements and testimonials for bloggers, I would like my readers to know that many of the books I review are provided to me for free by the publisher or author of the book in exchange for an honest review. I am in no way compensated for any reviews on this site. All donations are to help keep this site running via costs from shipping, .com charges, and other giveaways.
Comments are DELICIOUS! and now that were using this new format for comments the TOP 3 Commenters will all win bookish goodies each month! So that is just one more reason to comment! This is open to everyone! So get commenting!
Don't forget to check out our Facebook, Twitter, Instagram, and Pinterest!
@CrossroadReview