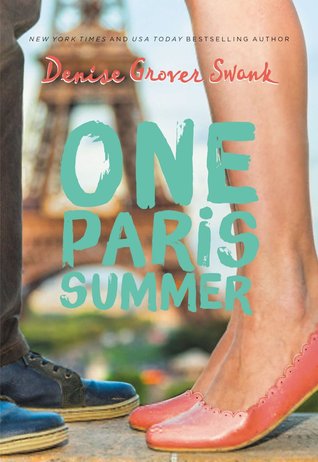 Most teens dream of visiting the City of Lights, but it feels more like a nightmare for Sophie Brooks. She and her brother are sent to Paris to spend the summer with their father, who left home a year ago without any explanation. As if his sudden abandonment weren't betrayal enough, he's about to remarry, and they're expected to play nice with his soon-to-be wife and stepdaughter. The stepdaughter, Camille, agrees to show them around the city, but she makes it clear that she will do everything in her power to make Sophie miserable.
Sophie could deal with all the pain and humiliation if only she could practice piano. Her dream is to become a pianist, and she was supposed to spend the summer preparing for a scholarship competition. Even though her father moved to Paris to pursue his own dream, he clearly doesn't support hers. His promise to provide her with a piano goes unfulfilled.
Still, no one is immune to Paris's charm. After a few encounters with a gorgeous French boy, Sophie finds herself warming to the city, particularly when she discovers that he can help her practice piano. There's just one hitch—he's a friend of Camille's, and Camille hates Sophie. While the summer Sophie dreaded promises to become best summer of her life, one person could ruin it all.
New York Times and USA Today bestselling author Denise Grover Swank was born in Kansas City, Missouri and lived in the area until she was nineteen. Then she became a nomadic gypsy, living in five cities, four states and ten houses over the course of ten years before she moved back to her roots. She speaks English and smattering of Spanish and Chinese which she learned through an intensive Nick Jr. immersion period. Her hobbies include witty Facebook comments (in own her mind) and dancing in her kitchen with her children. (Quite badly if you believe her offspring.) Hidden talents include the gift of justification and the ability to drink massive amounts of caffeine and still fall asleep within two minutes. Her lack of the sense of smell allows her to perform many unspeakable tasks. She has six children and hasn't lost her sanity. Or so she leads you to believe.
This one starts with Sophie and her brother being sent to their dads for the summer. The fact is that he is getting remarried only after one year from divorcing their mom. This one starts out a little on the slower side but that was fine. Once you really get into the story it takes off and you can't put it down.
This one has romance, a really mean step sister, a really loving step mother (whom I loved throughout the book) and a brother that is kinda sorta just there for kicks.
Book in a Pinch
Paris, Romance, and Bulling (no evil stepmother though)
Go Into This One Knowing
A little slow but once it gets going you can't put it down.
"All opinions are 100% honest and my own."
So somehow we ended up with 3 copies of this in ARC and 1 in Finished copy! So enjoy!
a Rafflecopter giveaway
Disclaimer: Thanks to Goodreads and Amazon for the book cover, about the book, and author information. Buying via these above links allows my site to get a % of the sale at no cost to you. This money gets used to buy items for giveaways. In accordance with FTC guidelines regarding endorsements and testimonials for bloggers, I would like my readers to know that many of the books I review are provided to me for free by the publisher or author of the book in exchange for an honest review. I am in no way compensated for any reviews on this site. All donations are to help keep this site running via costs from shipping, .com charges, and other giveaways.
Comments are DELICIOUS! and now that were using this new format for comments the TOP 3 Commenters will all win bookish goodies each month! So that is just one more reason to comment! This is open to everyone! So get commenting!
Don't forget to check out our Facebook, Twitter, Instagram, and Pinterest!
@CrossroadReview