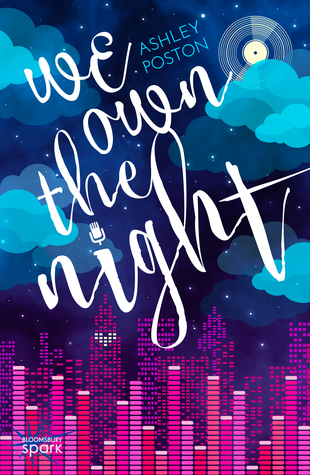 "Happy midnight, my fellow Niteowls..."
As a candy store employee by day, and mysterious deejay "Niteowl" by night, eighteen-year-old Ingrid North is stuck between rock 'n roll and a hard place. She can't wait to get out of her tiny hometown of Steadfast, Nebraska (population three hundred and forty-seven) to chase her dreams, but small-town troubles keep getting in the way. She can't abandon her grandmother with Alzheimer's, or her best friend Micah--who she may or may not be in love with.
But for one hour each Saturday, she escapes all of that. On air, she isn't timid, ugly-sweater-wearing Ingrid North. She's the funny and daring Niteowl. Every boy's manic pixie dream girl. Fearless. And there is one caller in particular-- Dark and Brooding--whose raspy laugh and snarky humor is just sexy enough to take her mind off Micah. Not that she's in love with Micah or anything. Cause she's not.
As her grandmother slips further away and Micah begins dating a Mean-Girls-worthy nightmare, Ingrid runs to the mysterious Dark and Brooding as a disembodied voice to lean on, only to fall down a rabbit hole of punk rockstars, tabloid headlines, and kisses that taste like bubble tea. But the man behind the voice could be surprising in all the right, and wrong, ways.
And she just might find that her real life begins when Niteowl goes off the air.
Ashley Poston's fangirl heart has taken her everywhere, from the houses of Hollywood screenwriters to backstage at music festivals to cosplaying at geeky conventions. She graduated with a BA in English from the University of South Carolina, and now lives in New York City where she can occasionally be seen sitting in coffee shops doing what she does best—procrastinating.
Tweet her at @ashposton and read her blog at www.casuallybeingweird.com.
This is one for your summer read list! Short, clever, dark, and some great snarky quirkiness is to be found! This one although a book two you can read these in any order. Some of the same characters from book one are floating around in this one but it won't make any difference on which order you read them in.
If your looking for a fast summer read look no further than We Own the Night!
"All opinions are 100% honest and my own."
Disclaimer: Thanks to Goodreads and Amazon for the book cover, about the book, and author information. Buying via these above links allows my site to get a % of the sale at no cost to you. This money gets used to buy items for giveaways. In accordance with FTC guidelines regarding endorsements and testimonials for bloggers, I would like my readers to know that many of the books I review are provided to me for free by the publisher or author of the book in exchange for an honest review. I am in no way compensated for any reviews on this site. All donations are to help keep this site running via costs from shipping, .com charges, and other giveaways.
Comments are DELICIOUS! and now that were using this new format for comments the TOP 3 Commenters will all win bookish goodies each month! So that is just one more reason to comment! This is open to everyone! So get commenting!
Don't forget to check out our Facebook, Twitter, Instagram, and Pinterest!
@CrossroadReview
Save
Save