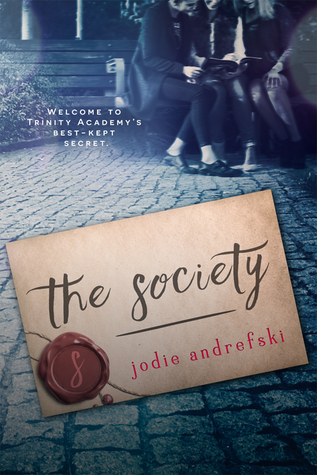 Welcome to Trinity Academy's best-kept secret.

The Society.

You've been handpicked by the elite of the elite to become a member. But first you'll have to prove your worth by making it through Hell Week.

Do you have what it takes?

It's time to find out.

Samantha Evans knows she'd never get an invite to rush the Society—not after her dad went to jail for insider trading. But after years of relentless bullying at the hands of the Society's queen bee, Jessica, she's ready to take down Jessica and the Society one peg at a time from the inside out.

All it'll take is a bit of computer hacking, a few fake invitations, some eager rushees…and Sam will get her revenge.

Let the games begin.
I've always loved books or movies that dealt with secret societies, and that interest along with my strong stance against bullying sparked the idea for The Society. I was curious about the fine line between a bully and a victim of bullying, and how it can flip as it did with Sam in The Society. The reality is, it can be a normal human reaction to want to get back at the person who bullied or hurt us. But is revenge really worth the price? It can be hard to think logically and not lose pieces of ourselves once we give in to the draw of revenge, and that's where really poor choices can come in unless we're able to stop and realize we don't want to stoop to the same low as the bully.

Bullying is awful and it is never okay.
If you're being bullied
, tell someone. You matter...don't ever forget that.
If you see someone being bullied
, take a stand against it. I encourage you to reach out to them and be their friend. Let them know they are not alone. If we all promote real kindness to the people around us, we really can make a change.
In this one two wrongs don't make a right and well one girl going for revenge after this other girl named Jessica pretty made her life a living hell also doesnt make a right. But when your world is fall apart and every day is another kind of hell I totally understand why Sam is doing what she is doing. If the school won't stop the bulling then its up to herself to do something about it.
Book in a Pinch
Revenge is a dish best served cold
Go Into This One Knowing
Revenge, First Love, Danger, and learning to take matters into your own hands may not always be the right answer.
"All opinions are 100% honest and my own."
a Rafflecopter giveaway
Disclaimer: Thanks to Goodreads and Amazon for the book cover, about the book, and author information. Buying via these above links allows my site to get a % of the sale at no cost to you. This money gets used to buy items for giveaways. In accordance with FTC guidelines regarding endorsements and testimonials for bloggers, I would like my readers to know that many of the books I review are provided to me for free by the publisher or author of the book in exchange for an honest review. I am in no way compensated for any reviews on this site. All donations are to help keep this site running via costs from shipping, .com charges, and other giveaways.
Comments are DELICIOUS! and now that were using this new format for comments the TOP 3 Commenters will all win bookish goodies each month! So that is just one more reason to comment! This is open to everyone! So get commenting!
Don't forget to check out our Facebook, Twitter, Instagram, and Pinterest!
@CrossroadReview