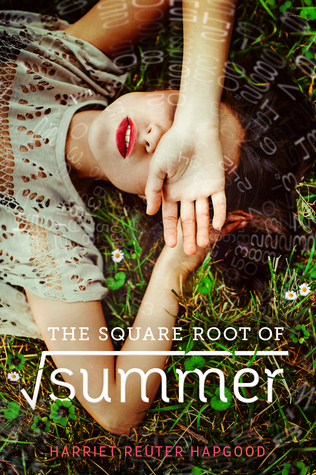 This is what it means to love someone. This is what it means to grieve someone. It's a little bit like a black hole. It's a little bit like infinity.
Gottie H. Oppenheimer is losing time. Literally. When the fabric of the universe around her seaside town begins to fray, she's hurtled through wormholes to her past:
To last summer, when her grandfather Grey died. To the afternoon she fell in love with Jason, who wouldn't even hold her hand at the funeral. To the day her best friend Thomas moved away and left her behind with a scar on her hand and a black hole in her memory.
Although Grey is still gone, Jason and Thomas are back, and Gottie's past, present, and future are about to collide—and someone's heart is about to be broken.
With time travel, quantum physics, and sweeping romance,
The Square Root of Summer
is an exponentially enthralling story about love, loss, and trying to figure it all out, from stunning debut YA voice, Harriet Reuter Hapgood.
Harriet Reuter Hapgood
is a freelance journalist who has worked with
Marie Claire
,
ELLE
, and
InStyle
in the U.K. Her debut novel,
The Square Root
of Summer
, was inspired by her German mathematician grandfather and her lifelong obsession with YA romance, which includes an MA thesis on
Dawson's Creek
from London College of Fashion, and a dissertation on romantic comedies at Newcastle University. She lives in Brighton, England.
So I was excited to read this one!! With it being pegged as the Time Traveler's Wife for teens I was SO excited!!! But shortly in I found that this was going to be something a little less exciting.
So for starters you need a crash course in physics for this book. It wasn't really explained why she time travels which although it was fine, I would have liked something of an explanation.
In the end this was a solid 3 stars for me. Although it was pretty good it was way confusing!!!
"All opinions are 100% honest and my own."
Disclaimer: Thanks to Goodreads and Amazon for the book cover, about the book, and author information. Buying via these above links allows my site to get a % of the sale at no cost to you. This money gets used to buy items for giveaways. In accordance with FTC guidelines regarding endorsements and testimonials for bloggers, I would like my readers to know that many of the books I review are provided to me for free by the publisher or author of the book in exchange for an honest review. I am in no way compensated for any reviews on this site. All donations are to help keep this site running via costs from shipping, .com charges, and other giveaways.
Comments are DELICIOUS! and now that were using this new format for comments the TOP 3 Commenters will all win bookish goodies each month! So that is just one more reason to comment! This is open to everyone! So get commenting!
Don't forget to check out our Facebook, Twitter, Instagram, and Pinterest!
@CrossroadReview