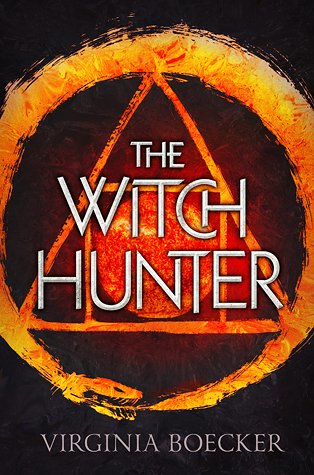 The magic and suspense of Graceling meet the political intrigue and unrest of Game of Thrones in this riveting fantasy debut.
Your greatest enemy isn't what you fight, but what you fear.
Elizabeth Grey is one of the king's best witch hunters, devoted to rooting out witchcraft and doling out justice. But when she's accused of being a witch herself, Elizabeth is arrested and sentenced to burn at the stake.
Salvation comes from a man she thought was her enemy. Nicholas Perevil, the most powerful and dangerous wizard in the kingdom, offers her a deal: he will save her from execution if she can break the deadly curse that's been laid upon him.
But Nicholas and his followers know nothing of Elizabeth's witch hunting past--if they find out, the stake will be the least of her worries. And as she's thrust into the magical world of witches, ghosts, pirates, and one all-too-handsome healer, Elizabeth is forced to redefine her ideas of right and wrong, of friends and enemies, and of love and hate.
Virginia Boecker weaves a riveting tale of magic, betrayal, and sacrifice in this unforgettable fantasy debut.
Virginia Boecker recently spent four years in London obsessing over English medieval history, which formed the basis of her debut novel, The Witch Hunter. She now lives in Portland, Oregon with her husband and spends her days writing, reading, running, and chasing around her two children and a dog named George.
In addition to English kings, nine-day queens, and Protestant princesses, her other obsessions include The Smiths, art museums, champagne, and Chapstick. You can visit Virginia online at virginiaboecker.com or on Twitter @virgboecker.
Reading this the second time around it still left me in happy tears. I really fell in love with this story and its characters. It takes us on a journey of tolerance and finding where you belong in a world that really never was your own.
Elizabeth thought that where she belonged was with the witch hunters but once she is whisked out of that world and thrown into the world of her enemies everything changes.
She is such a strong character but she has her flaws and her weaknesses. It makes her a very well rounded character that you just can't help to fall in love with.
As for the side characters I loved everyone. They each bring their own strengths to the story and I hope in book two or even a novella we get to know more about each of them.
The story was amazing it flowed so well it wasn't slow or stagnant in the least. It will keep you on your toes. And by the end you will be so entangled in its words that when it gets to the end you will wonder where the rest is.
Book in a Pinch
Fast Paced! Pretty straight forward story about magic, persecution, and segregation.
Go Into This One Knowing
There is no real love triangles in this one and no cliffhanger. Although things are left way open for book two.
"All opinions are 100% honest and my own."
a Rafflecopter giveaway
Disclaimer: Thanks to Goodreads and Amazon for the book cover, about the book, and author information. Buying via these above links allows my site to get a % of the sale at no cost to you. This money gets used to buy items for giveaways. In accordance with FTC guidelines regarding endorsements and testimonials for bloggers, I would like my readers to know that many of the books I review are provided to me for free by the publisher or author of the book in exchange for an honest review. I am in no way compensated for any reviews on this site. All donations are to help keep this site running via costs from shipping, .com charges, and other giveaways.
Comments are DELICIOUS! and now that were using this new format for comments the TOP 3 Commenters will all win bookish goodies each month! So that is just one more reason to comment! This is open to everyone! So get commenting!
Don't forget to check out our Facebook, Twitter, Instagram, and Pinterest!
@CrossroadReview
Save
Save